Awesome WIAW's yesterday everyone! I really enjoyed looking at all the delicious eats! Every week I am seriously astounded at how many people are participating now….its so cool to be a part of such a huge link up!
——————–
I mentioned a few posts ago that I picked up Jillian Michael's book Unlimited. After getting hooked on her podcasts I knew I had to read her book! And let me tell you, it has not disappointed so far! It's split into three parts: Imagine, Believe, and Achieve. The first two parts focus on identifying the problems within yourself that are stopping you from living your best life and providing you the tools to deal with them. While the third part (which I just started today) is all about executing…putting your goals into action and making steps to find your inner truth.
Jillian's personality really comes through in her writing and its awesome to see how educated and knowledgeable she about everything she promotes. She's not just a figure head for healthy living, she's an example.
I am finding that I can really relate to everything she is saying and already feel like I've become more self aware based on all the things I've read so far.
In each chapter she gives the reader little exercises they can do (whether it be answering questions, just thinking about something, or making a list) to be more proactive in achieving their goals or getting through their own personal struggles. One thing she mentioned I really liked and wanted to share with you all. It's actually something that I have been doing for years…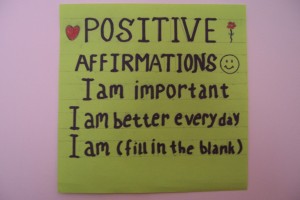 Jillian suggested physically writing down little phrases, quotes, mantras, or words to keep on hand at all time that inspire you or instill hope in you whenever you refer to them. Being a very visual person (writing things down or looking at something written down really impact me and help me through things), this a small practice I've used regularly during tough times.
I even have a list on my phone that I add to and look to when I am in need of a bit of day brightening. Here are some the things I currently have on my own list:
-This too will pass.
-A hard decision is just one more step to accomplishing your goals.
-Fear is the only thing that inhibits happiness, so do something everyday that scares you.
-Think it through before you let it overwhelm you.
-In the grand scheme of things this is not a big deal.
-Smile.
Being reminded of these simple notions on a daily basis help refocus me and keep my mind from getting overwhelmed with things that present challenges.
I know that the things I listed above work for me…but as I said, I am always adding to my list and finding new sources of positivity. And this is where all of you come in!
Whether you have your own list like this or have never physically written down an affirmation in your life, I want you to think of a phrase, word, quote, or whatever, that grounds you, makes you smile, or inspires you to be better. Then, I want you to share it in the comments section or email it to me (and it can be more than one of course!) at proulxkr@roadrunner.com! Once I have a good amount of submissions I am going to compile the list and feature it on the blog! This way you can print out the list to carry in your wallet, save the photo to your desktop, or download it on your phone and have your own Make it Through Mantras to keep with you and refer to when needed. Sound good?
I can't wait to see what you all come up with! You all inspire me everyday as it is, so having a list of ideas from you all compiled into one project is going to be simply amazing. Even if no one else uses the list…I know I WILL!
So, share away! Leave a comment or shoot me an email with your go to mantra's or affirmations! I hope to make the list up sometime this weekend so let's say Saturday is the last day to submit for the printable list (from then on I will make a page where new submissions can be made and added to the list!).
I hope you all take part in this! It's just one little positive thing you can do for your day. If you do nothing else today that made you feel productive, maybe contributing to this little project can make you feel a bit happier and content with who are and what you've contributed to the world
Can't wait to see what you come up with!
If you want to share this project with others on any of your social media outlets…just link back to this post or tweet using the hashtags:
#makeitthrough or #mantraproject
Kaila
Subscribe on the side. Follow me on Twitter. Ask me on Formspring. Friend me on Daily Mile. Follow me on Pinterest. Like me on Facebook.
9 responses to "Make it Through Mantras"