YOU ALL ROCK. I loved all the feedback on the third installment of my Focus On series! Each week, all your responses get better and better! I love reading your opinions. And I have to say I am having a lot of fun with these posts. I am learning a lot right with all of you!
(PS: I announced the winner of my KUR Delights giveaway on that post and they haven't gotten back to me yet…they have one more day before I pick a new winner!)
Of course today is WIAW and it pretty much needs no introduction….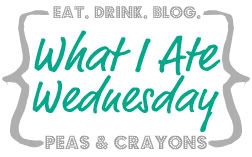 What I Ate:
[turkey fiesta salad]
[larabar, pb and banana rice cakes]
[pumpkin oats with soon to be reviewed buckwheat groats from Bob's Red Mill]
[Garlic Gold's new flavors…been sprinkling these nuggets on EVERYTHING]
[smoked gouda whole wheat mac n' cheese]
[kefir with cocoa and amazing grass]
[frozen banana and dried apricots with pb in tortillas]
[veggies on veggies]
[japanese sweet potato, rice vermicelli with tuna and sauce]
[cauliflower crust pizza…this one was better than the first time I made it!]
[new (to me) Elevate Me bar flavor that I will be reviewing soon]
[green pea spread made with green pea flour that I will be reviewing soon!]
[pre milked cereal mix for work]
[grilled cheese, carrots with sunflower seed butter]
[cereal mix]
[pita with feta and tomato, eggs with spinach]
What I Worked:
I've been making a conscious effort lately to incorporate more strength and lifting in to my workouts. During the Summer I get the cardio bug because of the nice weather and tend to neglect my strength training. But thanks to Midwest fit and a bit of my own creativity, I've been able to come up with some circuits that I like! Here's my latest:
What I Have for You:
I mentioned a few posts back about maybe starting a Blogger PostSecret project….a lot of you expressed interest so I thought I would get it started! It's pretty simple. If you have a secret that you have been wanting to get out but want to do it anonymously, leave it on my formspring page. Then once I get a good amount of secrets I will do a wrap up post and post them! If we get weekly interest in doing this type of thing I can make it a staple on the blog! I think it will be kind of fun! Like I said when I sent my secret into the actual PostSecret, it was so freeing. It felt so good to just get something off my chest without any fear of repercussions. Just being able to get something out in the world was really nice.
So head on over here if you feel like getting something off your chest.
And another lil' something for you all….
You might have heard that Conscious Box is rolling out a brand new ALL VEGAN monthly subscription box in addition to the other subscriptions they offer! Well, since I've reviewed for them in the past they contacted me and offered to give one of my readers one of their new boxes…packed with vegan snacks, vegan household items, and vegan beauty products!
From the company:
"Conscious Box has teamed up with Brendan Brazier, former pro Ironman triathlete, bestselling author of Thrive, and formulator of Vega. Brendan Brazier is known as a top authoritative source for the vegan, plant-based diet, and has used his experiences to help create one of the most incredible Conscious Box experiences yet!"
To enter:
Leave me a comment telling me if you are interested in the Blogger PostSecret project.
Like Conscious Box on Facebook.
Follow Conscious Box on Twitter.
And of course, any of the other usual means of entry!
Have a wonderful Wednesday everyone!
Kaila
Subscribe on the side. Follow me on Twitter. Ask me on Formspring. Friend me on Daily Mile. Follow me on Pinterest. Like me on Facebook.
Today's Healthy Help: I gave a lady directions while I was walking Ella! She stopped me in her car to ask where a local store was and I happily pointed her in the right direction
.
86 responses to "WIAW: Working with Weights and Bringing you Boxes!"