Happy New Year everyone!
I know most people are posting yearly recaps, roundups, and resolution lists right now but I've decided to give you all a break from those types of things. Frankly because I have no desire to reflect on the year past. Not saying it was a bad year or anything like that, in fact it was filled with many life changing moments and impacting events, but with my new state of mind I would rather look towards the what the New Year has in store and get on with living! I mean, heck…2012 is over and done and there's nothing we can do to change it so why not make what's ahead of us as great as it can be.
Also, this year I've decided to not make any New Year's resolutions (I will however be joining Amanda in her 365 days of Memories challenge!). Since I went through a big transition in the last few months of the year, I realized that if I want to make a change in my life I will do it right in the moment. Change happens because it's of necessity, not because of some yearly ritual or time deadline. If I don't need to change, I won't…but if I feel the need, you better believe I'm gonna make it happen.
And for my last thoughts on the whole New Year's tradition…I wanted to share with you something that my yoga instructor said to us in class today (which was AMAZING btw! perfect way to start the new year!). She commented on New Years resolutions and said that instead of focusing on becoming smaller (or any other resolutions that have to do with getting in the gym more, changing your shape, or trying to achieve a certain exterior aesthetic …Focus on getting bigger! Bigger with your goals, your dreams, your love, your heart, and your actions! The world needs you to be big! Make an impact with your amazing spirit and presence! Because frankly, you losing 5 pounds, is not going to change the world, make you more lovable  or make you anymore of a better person…but making positive changes with healthy motivations behind them will!
Just something to consider!
And now on to your regularly scheduled programming 🙂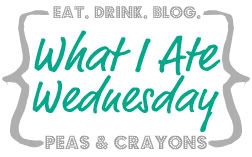 First WIAW of 2013 babaaaay! Let's get this party started CONTINUE the New Year's party with some good eats!

[roasted squash, roasted veggies, and LOBSTER]
 [southwest turkey saute on salad with cheese, humus, and pear tortillas]
[first SIAB of winter]
[another turkey bean scramble with toasted pita and bean dip]
[tofu nuggets, squash, veggies, and soft cheese]
 [tofu nutritional yeast scramble with pear and cheddar quesadillas]
 [New Year's Eve feast: crab and shrimp bake, sweet potato with cheese, and balsamic roasted veggies]
 [purple cabbage salad with roasted garlic dressing]
[homemade pizza]
—-
What are you looking forward to most this year?
Are a resolution making person?
One day in and I'm feeling pretty good!
Kaila 
Subscribe on the side. Follow me on Twitter. Ask me on Formspring. Follow me on Pinterest. Like me on Facebook.
Todays's Healthy Help: Cleaned the kitchen floors and helped my mom make soup!
5 responses to "Non-Traditional New Year"