Excuse the weird song…it was a free download on iTunes a while ago. It just happened to fit the title
I am at a loss. I just feel like I have nothing important or exciting to blog about lately! I need some inspiration! It's like all the writing for school I've been doing is sucking the creativity out of me and leaving me dry when blogging time comes around.
Ah well, hopefully it'll pass. In the mean time, I have a ton of Q and A questions I can answer for you all from your entries to my last giveaway!
Q and A's are always fun right?! At least they are for me! I love getting new questions to answer.
Here are the latest ones:
1. In your guest post on my blog, you said that you've been acting professionally since you were seven. Are you in commercials or TV shows or movies or what? 🙂
Mostly professional theatre with a sprinkling of commercials and short films!
[from the play bill of a show I did a few years ago]
2. What is your favorite sport to watch on TV?
I don't watch a lot of sports on TV but my favorites would definitely be Hockey or Baseball. They're the only ones that keep my attention! Although I do have a weird love of tennis on TV too…I could watch it for hours!
[GO Sabres…even though you STINK right now!]
3. Do people ever give you crap about your healthy diet?
ALL the time! Especially kids my own age. Mostly just questioning the foods I am eating or criticizing me for not eating certain foods. It can get pretty annoying and sometimes rude. But it's the lifestyle I enjoy so I am not gonna let others bring me down.
[this how most people I know feel about veggies…]
4. What are you planning to major in during college?
I wish I knew!! I keep going back and forth between the medical field and something in the humanities…like international relations or journalism! I probably won't know until I get into the first semester and start taking some classes.
5. If you had to choose one veggie to eat for the rest of your life, what would it be? i know, it was really hard for me to think of too!
You're right this is a tough one! I would say broccoli! I can never get sick of it.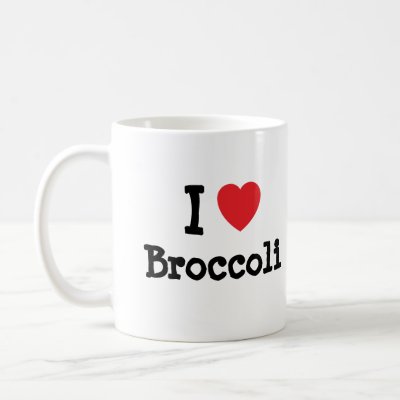 [someone want to get me this mug?]
6. Any advice for a beginner to running?
Start out small, slow, and steady. Don't get frustrated because it can be really hard when you're first starting out (or even when you're coming back from an injury!). Also, don't think to much! When you over think a run (or a workout in general) you second guess yourself and are less likely to get it done….I am guilty of this ALL the time.
7. What's your favorite place to visit/travel to?
California! Not only do I get to see my sister, but the state is just SO beautiful! But really any big city makes me happy!
8. Hey girl 🙂 I love reading your blog! But when I read about your 12mile run I couldn't help but think that was a bit much after an injury. I really hope you don't take this the wrong way or anything..I read your blog all the time and this just worried me.
I definitely understand your concern. I didn't plan on running that long or far…it just kind of happened. I probably should have exercised a little more self control but I kind of just got caught up in the run and kept going. Luckily I was fine afterwards…but it definitely was risky! Thanks for your concern.
[Side note: I PDR'ed today….check out the details here!]
Pick a question and answer it for yourself!!
Is there anything you all would like to see on the blog? A special feature? A certain type of post?
I am open to any of your suggestions!!!
What are you looking forward to this week?
This week is kind of a short one for me since I have a half day on Wednesday (I usually just take half days off
)….so that'll be nice to look forward too!
Bye friends!!
Kaila
Subscribe on the side. Follow me on Twitter. Ask me on Formspring. Friend me on Daily Mile. Follow me on Pinterest. 
9 responses to "Just Can't Find the Words…"