My goal for cooking more once school calmed down a bit has certainly been going well! Forget trying one new recipe a week…I've been trying a bunch! Feels great to be getting the creative juices flowing in the kitchen again.
And of course since it's WIAW…I have to share one new recipe that I am absolutely loving!
But first…the usual fun!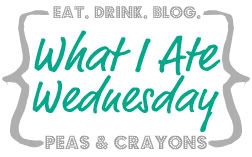 What I Wore:
[american eagle crop tank with forever 21 shorts]
What I Ate:
[matsa with humus and veg+a cheese stick]
[kabocha with tofu fingers<-recipe below]
[grilled humus and avocado panini]
[tofu stew with sweet potato fries]
Nut Roll UBER bar-tastes like a sweet and salty dream!]
What I Made:
Tofu Fingers
Inspired by this recipe
serves 1
1/2 block firm tofu, pressed overnight (or for a few hours)
1 wasa hearty crisp bread, crushed into crumbs(or a serving of whole grain crackers)

1 heaping tbsp nutritional yeast

dried basil, chili flakes, thyme, oregano
Preheat oven to 400. Slice pressed tofu into desired size "fingers". In a small bowl combine cracker crumbs, yeast, and spices. In another bowl, whisk egg. Dip tofu slices in egg and then into crumb mixture. Coat as evenly as possible. Place fingers on a parchment paper lined baking sheet and bake for about 20 minutes. Turn fingers over and bake for another 10 minutes.
The result is a delicious, crunchy, cheesy coating that is absolutely perfect with the crispy baked tofu!
What People Searched:
People found my blog through some funny searches this week…some of the best:
-hairless woman
-swedish nose
-full bladder need to pee
-rob dyrdek's closet
-underwearless at school
-never go comando in another man's fatigues
-nonfat steak
-can I get your kabocha squash's number?
RANDOM, huh? Seriously, people must think my blog is nuts with all these crazy search terms!
Oh and some other foodie news…I FINALLY updated my recipe and product review page! So go check those out if you're in search of some new stuff!
——
Shifting gears a bit…my cousin (who is an avid horse enthusiast and actually owns a horse farm with her family) posted this video on Facebook today. Watch at your own risk, as it is very graphic. But I just wanted to share it with you all to make you more aware of the atrocities against show horses being committed in our own country. It truly is appalling. Please help shed some light on this horrible situation by sharing this video with as many people as you can!
Have a great week!
Kaila
Subscribe on the side. Follow me on Twitter. Ask me on Formspring. Friend me on Daily Mile. Follow me on Pinterest. Like me on Facebook.
14 responses to "Get Cooking for WIAW"