Your passion can turn into your dream job when you follow your heart and make smart business decisions! 
Thanks Kaila for letting me take over today and share a little bit about my experience working out at home and also being a Beachbody coach!! I'm Kalee from SoreyFitness where I blog about building a healthy body and balanced life.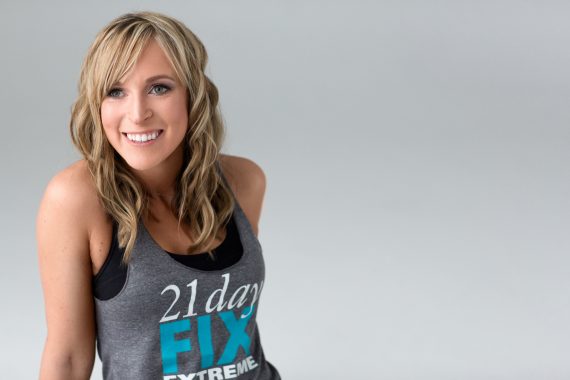 I'm 27, married and love a balance of healthy foods and an occasional cupcake. I live in a small town, so I found working out to DVDs early in life…like watching my Mom do TaeBo and Buns of Steel when I was about 10. So the fitness gene runs deep.
My mom and I both love to workout at home using DVDs (or streaming now!). We also became Beachbody coaches in 2012 after falling in love with ChaLEAN Extreme and TurboFire. Both programs' workouts and nutrition plans were way above anything else we had ever tried, and it was so professionally put together.
3 Reasons to Try a Workout at Home
It's so convenient. I have a gym membership, but by the time I get to the gym, park, get a spot in class or to the equipment I want to use – I could have been finished with my workout at home!
It's cost-effective. A lot of the full programs have everything you need to get started plus a nutrition plan and cost less than 1 month's gym membership. Plus, you can keep using the program over and over. My 21 Day Fix is very worn in!
It offers more assistance. I know that sounds counterintuitive, but the trainers of the DVDs remind you of proper form, teach you about the muscle groups you're using and more. If you want that in a gym, you're going to be paying for a personal trainer.
"But" you say…
I'm a runner. Adding in HIIT training or strength trainings can help you improve your running!
I love the social atmosphere of the gym. If you decide on a Beachbody workout, my mom and I offer a 21 Day Challenge to help you get started an also have a year-round group. With it being online, you can get support no matter what time of day, and you'll connect with more people with similar goals and demographics as you!
I don't want to be pestered by a coach. No worries – we offer support to those that need it, but if you want to be left alone, you aren't going to be pestered. Just like someone at the gym isn't going to hound you about something.
Are the workouts hard enough or as effective as going to the gym? In short, yes! Many of the top programs like TurboFire, Insanity, PiYo and P90X are taught in gyms now.
What's the Best Workout to Try?
It totally depends on your goals! My favorite for beginners or someone looking for quick results without starving or working out forever is the 21 Day Fix.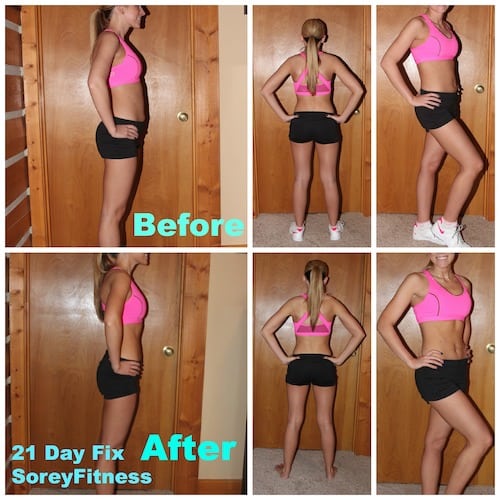 These were my results in 21 days. I followed the simple meal plan and worked out 30 minutes a day. I lost 11lbs and 5.5 inches, and I actually ended up in the infomercial!
Though if you're looking for something to supplement your running, you might try PiYo – a mix of pilates and yoga. Hate working out? TurboFire or Cize might be perfect for you because they are so much fun! If you need something QUICK and intense, check out 22 Minute Hard Corps for a bootcamp workout or P90X3.
There are tons to choose from — which is one reason my full-time job as a Beachbody coach is so much fun!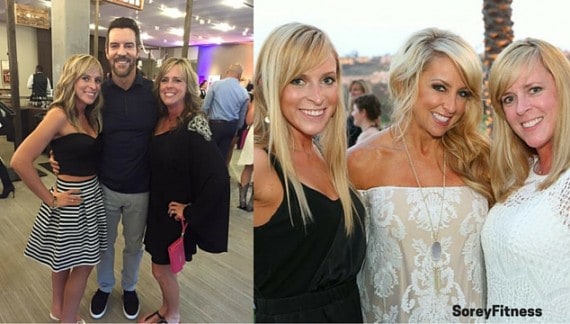 The workouts changed my life, my confidence level, and even helped me find my own value. Now, as a coach – I get to help people just like you find the best workout for them! I absolutely love it. If you want to figure out what workout program you'd love, feel free to email us at thegirls@soreyfitness.com.
Coaching has also helped us create a strong business and income in the past 4 years. We are the first mother-daughter Elite team, and help people now not only with their fitness goals but also with their business goals!
Before becoming a full-time coach, my mom and I both taught high school math. We loved helping and teaching, but the paperwork was getting worse every year. Since becoming full-time coaches, we've tripled our income, can travel more, and get to help people who WANT the help.

Our team of coaches is growing like crazy, and it's such an amazing group of women focused on helping others and hitting their own goals. If you've ever thought about becoming a trainer or a coach – I'd love to help you see if it's a good fit without any pressure. We also have a great guide and FAQ section on coaching on the blog.
If you have any questions on choosing a workout, at-home routine, or coaching, feel free to email me at thegirls@soreyfitness.com or check out SoreyFitness.com.
Do you workout at home? Have you thought about Beachbody coaching before?
Kaila here! Thank you so much Kalee! It's amazing what following your heart can do for your career and your whole outlook on life. Good for you, girl!
    Stay connected:
Subscribe to Healthy Helper
Instagram: 
HealthyHelper
Facebook: 
Healthy Helper
Twitter:
@Healthy_Helper
Pinterest: 
Healthy_Helper
Bloglovin': 
Healthy Helper
Tumblr:
Healthy Helper Blog
Snapchat: KailaProulx
Buy my BUDGET TRAVEL EBook!
Shop with me on Amazon
. Favorite products, fun finds, and more! Want to get FREE products for review and make money as a blogger?
Check out Linqia
!
Vacation budget a little tight? Get a discount on your AirBnB booking!
4 responses to "How Working Out at Home Turned into my Dream Job"