No real theme this week, kids! Just a lot of food and a lot of FUN! Including a special appearance…scroll down to see who it is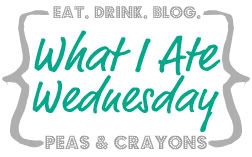 Thanks to Jenn for being our party's gracious host!!
What I Ate
grilled cheese with jam and  spinach, juicy orange
kale-tomato soup with chopped tomato and garlic
fiber o's, kamut puffs, raisins, pear, blueberries, and almond milk
sweet black bean saute over wheat pasta
such a good jarred sauce!
wasa's with pb and frozen banana, apple, and leftover roasted cauliflower
What I Worked
The weather was PERFECT for running today! So unexpected and SO welcome!
What I Made
Or rather…attempted to make:
[pre rolling and baking]
[post baking…a little funk lookin']
I just ran out of millet tortillas and I tried to make my own….but they didn't turn out quite how I planned! Oh well! I'm not one to waste food so they will definitely get eaten.
If I get the recipe right I will share it with you all!
What I Got
Surprise yogurt package!! YAY! I love Chobani!
I got two containers of plain (one 0% and one 2%!)…plus this cute magnet!
Gotta love the mailman!
What Who I Snuggled
Look who got a haircut!!!
Ella montage time!!
What a cutie!!
——————————–
Jarred sauce or homemade?
I am italiano so you know I love the homemade sauce!
What was your workout today? Or was it a rest day?
Do you have a pet? What kind?
Have a great day y'all!
Kaila
Subscribe on the side. Follow me on Twitter. Ask me on Formspring. Friend me on Daily Mile. 
18 responses to "WIAW Time!"