Reunited and it feels so gooooooooooooooooooooooood!
After a 6 month trip to the camera hospital (AKA the camera store is UBER lazy and let my camera sit there collecting dust!!) my camera is finally fixed!!! YAY! As much as I love my dad's professional camera…its kind of a pain to lug around! So happy to have my lil' point n' shoot back! Canon is the bomb when it comes to high quality point n' shoots!
So this WIAW is courtesy of my old friend. It's nice to have ya back buddy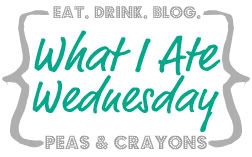 [Hey Jenn!]
What I've Been Eating:
[finished up my nakd bars from Nicky…tear
the banana bread is my fave!]
[SMOKED mozzarella cheese sticks are AMAZING!]
[yogurt mess with cottage cheese, puffs, amazing grass, and ezekiel cereal]
[I have been POUNDING the greens this week! I got a boatload for NINETY NINE CENTS at the health food store! They were apparently on their last legs…but I think they were mistaken
Tasted great to me!]
[PROOF!]
[grilled eggplant on wasa's with cheesy rice!!!]
[heated up frozen peaches=new obsession]
What I Wore (a segment I can finally bring back….selfies are not easy with a big ass bulky camera!):
What I Worked:
Split my workout up today…half before dinner and half after! I think I waited to long to do the second half though cause I was pretty tired by the time it was time to do it!
What I Learned:
Thanks to my quality time spent with magazines and the elliptical last weekend:
Turmeric helps with inflammation caused my tendonitis (what I have right now!!)….you better believe I am gonna be loading up on this spice!

Full body strength workouts that incorporate quick, explosive sets are WAY more efficient than doing long sets with more reps at a comfortable pace. Less is more!

A new study showed that people who took a brisk walk or did some sort of activity prior to studying retained much more of the material than those who stayed sedentary. I knew there was something good about my reading walks!
Thought those were some interesting tid bits!
What I Received:
This is what ya wanna come home to after a long day at school…
Love me some early Christmas presents!
Thanks Larabar and Chobani! You guys are the best. Suuuuriously.
What I'm Watching:
Have you ever heard of National Geographic's Taboo!? We watched an episode in my AP Human Geography class and now I'm hooked! It explores taboo's in cultures all over the world…but be warned, some of the episodes are NOT for the squeamish! I love it though! History nerd right hur.
——————
What TV shows are you loving lately?
All my usual ones…plus I have recently gotten into Homeland! It's so exciting!
Are there any foods from different countries that you wish your own country sold?
Nakd bars for sure!!! They are so yummy! Luckily I find a "make your own" recipe…so I'll have to try and recreate my own soon!
Have a great WIAW everyone!!!
Kaila
Subscribe on the side. Follow me on Twitter. Ask me on Formspring. Friend me on Daily Mile. Follow me on Pinterest.
20 responses to "WIAW: Reunited!"