Technically it is still July when I am writing this WIAW post up, so I think I can get away with going along with July's WIAW theme. At least I hope so, because the fitness survey that's been going around looks really fun and I want to fill it out too!
So get ready for some survey fun interspersed with some delicious eats from the past week!
WARNING: This WIAW is heavy on the grilled cheese! Current food obsession just to let you know.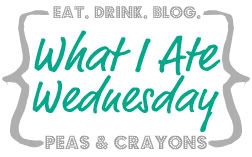 [homemade granola I made for a fellow blogger friend….quality testing was performed of course
]
1.  Run/workout in the heat and humidity or freezing temps and snow?
HEAT! I've said it before and I'll say it again…I LOVE TO SWEAT. So, the hotter the better! All the more reason for me to move somewhere warm ASAP. Running in the winter takes SO much motivation for me. I keep having to tell myself that I will warm up…those first few moments outside in the frigid temperatures are brutal….enough to force me into the gym for much of the winter months.
2. Have washboard abs or flat abs?
Flat abs…I like the natural look! Unfortunately, I build muscle really easily in my core so my abs are really defined…they look man-ish
.
[okay, how come someone didn't tell me to try peanut flour on yogurt sooner? IT IS FREAKIN DELICIOUS!]
[cocoa and cinnamon dusted pear in almond milk]
3. Dr. Oz or The Doctors?
Neither? I am really not a fan of either of those shows. I think they're both pretty boring and they focus to much on fads in the health world. Plus, I think The Doctors are total enablers! They get unhealthy people on their show and instead of telling them how to get healthy, they baby them and say "oh, its okay…it's not your fault". Frustrating! I am a fan of Dr. Phil though! Ha!
4. Cardio or strength?
Cardio whore to the max. I just love the endorphin rush it gives me. Although strength training is definitely a part of my workout regiment as well.
[grilled cheese made with feta and blueberry jam]
[oranges, elevate me bar, and crisps with black bean dip]
5. Cravings: Protein or carbs?
CARBS CARBS CARBS. Do I even need to explain? You all know I love my crackers, cereal, veggies, bread, and fruit like none other! I do love protein though…cravings for eggs, turkey, and fish happen all the time.
6. Jillian Michaels or Bob Harper?
Well, seeing as I listen to her podcast religiously, have all her DVD's, and just finished reading Unlimited, I'm gonna have to go with Bob….just kidding of course! Jillian is my main girl!
[goat cheese and tomato grilled cheese]
[Look what I found! I was so excited to finally see these on shelves!]
7. Frozen Yogurt or Ice Cream?
Frozen yogurt because I am all about toppings and there are so many options when you get fro-yo. To bad there are like NO frozen yogurt places in Buffalo. Boo.
8. To train: Upper body or Lower body?
Lower body all day, erryday. My legs are the strongest part of my body so I love doing exercises that test their strength and endurance. I always have to remind myself to do upper body work! I hate my chicken little arms!
9. Protein powder or food with protein?
Food with protein all the way. I don't even own protein powder. Give me natural, whole nutrient sources over processed powders any day.
[grilled cheese made with goat cheese with marinaded basil tomatoes]
[eggs with jam grilled in corn tortillas with an orange]
10. Lunges or squats?
These two are pretty much equal for me…but if I had to choose I would go with squats because squats with shoulder presses are one of my all time favorite compound strength moves!
11. Sweet or salty?
Sweet. I hardly ever crave salty foods actually. I do however enjoy sweet and salty combinations (much like my love for sweet and savory combo's!). To me, the perfect raw fruit and nut bars are the ones with a touch of sea salt in the ingredients (like the Kit's bars I showed above!).
[ezekiel cereal with blueberries and almond milk]
12. Workout attire: cute or comfy?
Comfy. Come on people, you're gonna be nasty, stinky, and sweaty while you're working out…why would you want to stank up your cute clothes? At the gym you'll find me in shorts old running/softball tournament tee's, and a headband.
13. Body Pump or Heavy lifting?
I've never really done a lot of either. I usually do my strength routines on my own and don't really do a lot of heavy lifting. I am more of a low weight, high rep type person for that overall toned look. But the few Body Pump classes I have taken were kind of fun!
[the best snack ever: grilled cheese, carrots and apricots with sunflower seed butter]
14. Yoga or Pilates?
Yoga for relaxation and clearing my head. Pilates for a gentle workout and toning.
15. Nike or Adidas?
Not a big brand person…both are ridiculously overpriced in my opinion. But I think I have more Nike stuff than Adidas. And I like the Nike logo better!
16. Running on the treadmill or outdoors?
Outdoors when the weather is nice and for steady paced runs. But I do actually like the treadmill for speed work and when I feel like being entertained while running!
17. Whole Foods or Trader Joes?
I like both, but I have to give it Whole Foods. I could live there. They have all of my favorite brands and when I am fortunate enough to go to one I always find something new to try. Plus, they're prepared foods and salad bar is pretty much out of this world. (WF, open up a Buffalo store PLEASE!!!)
[roasted kabocha with turkey n' eggs]
[my first zucchini from my garden…it was delicious!]
18. Summer or Winter Olympics?
Summer. More sports I like to watch!
19. Exercises classes or Exercise videos?
I am probably one of the few that would actually say video's! Classes to me can get frustrating…dealing with late instructors, one size fits all routines (i.e. not challenging enough for more advanced participants), wasting time getting equipment and putting it away. With video's I have my own space, my own level of difficulty, and my own pace. I like exercising alone (it's my me time!
), so I don't really miss the social aspect of classes.
20. Steamed veggies or roasted veggies?
Steamed! I don't get me wrong, I love roasted kabocha and the crispy, char of oven roasted veggies….but I really like soft steamed veggies too! Health experts would probably cringe at me saying this, but I really liked overcooked veggies. Mmm mushy broccoli
Haha!
Nice questions! Kudos to whoever came up with this survey! They're such a good way to learn things about people that you might not otherwise have asked about.
Have a great WIAW everyone! And thank you for all the awesome feedback on my first Focus On post! I can't wait to write the next in the series!
Kaila
Subscribe on the side. Follow me on Twitter. Ask me on Formspring. Friend me on Daily Mile. Follow me on Pinterest. Like me on Facebook.
PS: For those of you asking where my blogroll disappeared to, my switch to self hosting deleted it! But I am in the process of creating a new page featuring all my favorite blogs that I follow on a daily basis!
10 responses to "WIAW: Fitness Questions"