Glad to see all the mom's out there enjoyed their special weekends! Gotta love family time
Exams are coming to a close within the next week and a half and I am finally feeling like Summer is really here. And with all the free time that Summer brings I am definitely looking forward to getting back to some creative cooking in my kitchen. When life gets busy I tend to stick to the same old stand by meals and snacks…but over the past week or two it has been nice to mix it up a bit and try some recipes I've had bookmarked (the spring rolls and blackened tofu cesar salad featured on last week's WIAW were two of them)!
So, I've made it one of my goals for this Summer to try out at least one new recipe a week. And believe me, I will not run out of recipes to try…between my Pinterest boards and my favorites bar on my computer, I have enough recipes to try for the rest of my life!!
Okay, enough words…time for the fun! (and a giveaway down below
)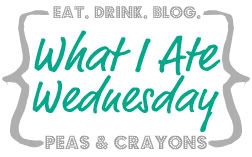 What I Ate:
[This weeks culinary adventure: I tried out a cauliflower pizza crust! It was definitely different but SO flavorful! Let me know if you want the recipe!]
[fresh juice from the Farmers Market]
[homemade sweet potato chips]
[cream top yogurt is BOMB…so creamy…tasted like French Vanilla icecream!]
What I Bought:
[new running sneakers! my old pair were completely flat…wore them down good!]
[7 dollar American Eagle shirts from Marshalls…sc-sc-scooooore]
What I'm Giving Away(!!!):
You may remember that I reviewed a bunch of products from Go Raw a few weeks back…well if you were looking to try some of those products yourself then you are in luck!! Here's what's up for grabs:
-1 of each of their raw granola bars (banana bread, flax bar, pumpkin seed, spirulina, and granola)
-chai masala raw cookies
-pizza flax snacks
-original superfood cookies
-spirulina chips
To Enter:
Mandatory–Like Go Raw's Facebook page and leave a comment telling me you did so!
Other ways to enter–
Tweet about this giveaway with a link to it

Ask me a question on Formspring

Link to this giveaway on your blog
Giveaway is open till Friday night!
Good luck and Happy WIAW friends!
Kaila
Subscribe on the side. Follow me on Twitter. Ask me on Formspring. Friend me on Daily Mile. Follow me on Pinterest. Like me on Facebook. 
85 responses to "WIAW: Creative Cooking"