It's been quite a while since my last WIAW post….but with the end of school and all, I just didn't have time to photograph a full day of eats! But today I DID!! And better yet, all these eats are actually from WEDNESDAY!
But before I get to all the foodie deliciousness….lemme tell ya a few lil' tid bits from my Wednesday:
First off….WHAT IS UP WITH THIS WEATHER!?!
Half the sky is sunny and blue…..half is dark and stormy! It was legit pouring in the front of my house but not in the back! Craaaaazy.
And secondly….look what I found in my garden when I woke up this morning!!!
All that rain we got must have really helped my plants…they are growing whole veggies now!
Just kidding.
(Haha. I wish my garden was producing full veggies……but right now it's only blooms.)
But what IS amazing about that little squash right there is that it's…..a KABOCHA!
My local co-op finally got so e in stock! I could not stop smiling! I am cooking this baby up tomorrow night for dinner…..Nicky, any tips?
Okay…..let's get to some good eats!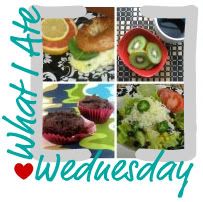 T
(overnight oats with blueberry-cherry-banana softserve)
(turkey-feta-apple-tomato panini, apple, veg with bruschetta, and lentil soup)
(apple-blueberries-frozen grapes-almond milk-raisins-cinnamon and mooore lentil soup)
(stewed veggies-avocado-black beans on salad, sweet potato, and veg)
(peanut butter-apple butter-carrots-cinnamon on rice cakes, oranges, and siggi's vanilla with pumpkin)
Everythang was delicious.
**************************************
Tell me something interesting about your day.
And for all my Boston blog friends out there….I am going to Boston this weekend for college visits! Any must see places I should go to? And I hear there are a few Whole Foods in town, which one is the biggest and bestest?
Kaila
Subscribe on the side. Follow me on Twitter. Ask me on Formspring.
19 responses to "WIAW….Back on Board"