Pheeeeeeew. I am glad to hear I am not the only one who was a little skeeved out by my gym experience yesterday! Also, glad to know that most of you go to the gym fully clothed! LOL! Believe me, you're doing the rest of the world a great service.
And I also wanted to thank you all for the nice comments about the blogs new look! It took a while to get done and I think I am actually liking it. I am always up for a fun change every once in a while.
————
Of course you all know what day of the week it is (or will be)…but for this WIAW I have something a little different for you! I have been getting great reader's requests lately and I am trying to address all of them as best I can. Here's the latest!
GREAT question! Time management is one of the few skills I have that I am REALLY proud of (and thankful for!). Not saying that I don't feel the pressure or let things fall through the cracks sometimes…but I like to think I do a pretty good job of keeping things in order.
I really attribute my organizing/time management skills to my parents and to the fact that I started acting professionally at such a young age. Juggling 5 hour rehearsals after school, leaving school in the middle of the day to perform, and keeping up with the rest of my life in the mean time definitely made me have to mature in the time management area a lot quicker than most people. But that's not to say you can't improve your time management skills! I think everyone is capable of getting things done and being productive…it just takes a little pre-planning!
For me it's all about making time. If I decide I want to include something in my day, I make sure I get it done. I put aside time to accomplish it. Also, making to do lists really helps me…if its written down, its binding. I love that feeling of being able to cross something off my list.
But anyways…since its WIAW, I thought I would do a little 'day in the life' post to show how my days go and how I tend to fit everything in! I am choosing to show you how a typical school day goes because weekends are pretty much a free for all and I never really know how they are going to turn out!
[sorry about the boring food pics…lots of repeats this week!]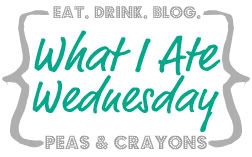 Wake Up: 6:00-6:30
One Tuesday's and Thursday's I have club meetings before school so I have to wake up and get to school earlier…the rest of the week I sleep in a bit.
Insert getting dressed, hair, and makeup-Literally takes me 10 minutes!
Breakfast: 6:30-7:20
Again depending on the day, breakfast is a little longer or a little shorter! I like taking my time in the morning with breakfast! I think its so relaxing to just sit and read blogs, catch up on the news, and chill before a full day at school.
Tip-To make my mornings a little less hectic I usually have an idea the night before of what I am going to make for breakfast the next morning. It prevents me from having to rush around and decide!
School: 7:45-2:20
At school I try to use my time as efficiently as possible. If one class is dragging and we aren't really doing much, I always do work for other classes. This has helped me so much! I end up coming home some nights with NO homework (not lately, but it's happened before!).
Return Home: 2:30
When I get home I am kind of "go-go-go" until dinner! I have to walk a few neighborhood dogs and Ella as soon as I get home.
Then I have a snack (starving at this point!), limit myself to a few minutes of internet stuff, and head off to work if I'm scheduled!
[Loving my scuffins lately! But this is only part of snack…I am a HUNGRY BEAST after school!]
On days when I don't have work or one of the clubs I run after school, I like to get in my workout before dinner whenever possible, because the later in the day it gets the less motivation I have. Sometime I even split my workout into two parts (half before dinner and half after depending on how I am feeling or how much work I have to do!)
Depending on my snack (how it sits in my stomach), I figure out what I'm going to do and then usually get started by 3:30 or 3:45!
What I Worked Today:
Dinner: 5:30-6:00
I eat dinner kind of early by some people's standards, but it works perfectly for me since I am able to refuel right after I workout!
Evening Activities: 6:30-onward
After dinner I make my lunch for the next day, answer emails, do homework, blog, finish my workout if need be, have a snack, and hang out with the fam! I follow a ton of shows on TV so, I always make sure to get everything I need done before they come on around 8 or 9.
What I'm Watching Tonight:
And that's basically it! I don't think its that remarkable or anything…but I guess my biggest thing is finding time to get done the necessary things and MAKING time to get done the things that are important to me.
There are many times when I could skip a workout or procrastinate on an essay, but then I remember how good I feel once I get those types of things done! That's where my motivation comes from!
Other things that help me stay organized:
-prepping some of my food for the week on Sunday
-getting ahead on school work (I try to work on homework in school and get ahead on assignments that aren't due right away)
-utilize a day planner
-taking advantage of your phone calendar/alarm system
Are you good at managing your time?
What's your go to tip for staying organized?
What are the number one priorities in your day? Like what things do you ALWAYS make time for.
Kaila
Subscribe on the side. Follow me on Twitter. Ask me on Formspring. Friend me on Daily Mile. Follow me on Pinterest.
23 responses to "WIAW: A Day in the Life"