Did you win my Conscious Box giveaway?! 
To spice up this WIAW I thought I'd share some pictures from the spontaneous visit my mom and I took to the zoo last week!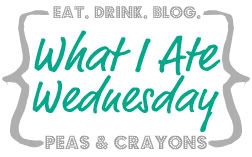 It was warm enough for us to ride our bikes up and I was pretty excited since hadn't been to the zoo in years. Unfortunately, it made me more sad than anything else. It's just really heart breaking to see animals confined in such small spaces with nothing to do all day. I really don't like the concept of zoo's now that I'm older. I think all the magic and fun of seeing exotic animals up close when I was young has been replaced with awareness of what is really going on in zoo's. But aside from the negatives, it still was fun to hang out with my mom and act like kids! HA!
[homemade falafel burgers, roasted veg, and sweet potato fries]
[soft shell crab at Red Lobster!]

[grilled cheese snack with carrots and pb]
[tofu salad, pita, squash, salad]

[turkey burger crumbles, roasted veg, sweet potato and cheese]
[quesadillas with guac, squash, egg and bean scramble]
[tofu nuggets, squash, marinated veggies]
[turkey egg scramble, pear and humus toast, broccoli]
Be back soon with my answers to the Liebster Award that I got from Bess Goes Bananas!
Have a great rest of the week friends!
Kaila 
Subscribe on the side. Follow me on Twitter. Ask me on Formspring. Follow me on Pinterest. Like me on Facebook.
Todays's Healthy Help: Made cookies for my neighbors!
PS: Stay tuned for these babies….
5 responses to "WIAW: A Day at the Zoo!"