I have bombarded you all with a TON of wordy posts over the last few days! So let's take a little break from all of that today and focus on the fun stuff…the FOOD!
WIAW time!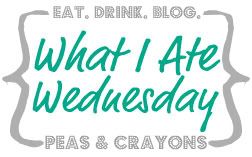 [Link up at Jenn's!]
Perfect timing for a less wordy post…cause I have A TON of food pics to share!!!
[orange creamsicle green monster with oats, raisins, fiber cereal, puffs, and ezekiel nuggets!]
[israeli couscous salad with cheese and crackers]
[cottage cheese tomato toast with basil]
[99 cent blackberries and the BEST humus flavor ever: Spinach Artichoke!]
[whole wheat spaghetti with peppery marinara]
[sunbutter toast]
[OVERNIGHT OATS! Haven't had them since Summer…but I got a major craving!]
I think it's the change in the weather that has revived my craving for ONO's! In a matter of days we have gone from this…
TO THIS!!!
Okay so maybe there isn't THAT much greenery and the leaves are definitely off the trees…but ALL THE SNOW IS GONE! And that makes me incredibly happy! We even got some sun today and the temperature was…wait for it…FIFTY FREAKING DEGREES! I went for a bike ride in shorts people…shorts!! IN JANUARY.
It seriously has been the mildest winter I have ever experienced. Especially for us Buffalonians…people were pretty much in Summer clothes today!
Thank you Mama Nature!
—-
What is shorts wearing weather to you?
Favorite recent eat?
Tried any fun NEW foods/combo's lately?
Any food kicks right now?
I am still craving PB like mad!
Love you all!
Kaila
Subscribe on the side. Follow me on Twitter. Ask me on Formspring. Friend me on Daily Mile. Follow me on Pinterest. 
17 responses to "WIAW: A Break from the Words"