I know you've all seen this little questionnaire floating around the blogosphere….but I really wanted to fill it out for myself! I love these survey things. So bear with me….pleeeease.
Plus it's WIAW…so you still get all that usual fun with just some random Q's thrown in! AND, there is a giveaway winner at the end of this post! So if you're just here for that…keep on scrolling. But I hope you'll stick around for the other shenanigans
.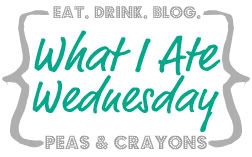 What I Ate:
[just a few pics this week…sorrrrry]
[I have been filling my french meadow bakery tortillas with EVERYTHING lately! They are seriously the best tortillas I've ever had!]
[pb and raisins…amazing]
[another new obsession…equally delicious with peanut  butter!]
[tuna-humus salad with a garnet yam!]
[ricotta and jam on wasa's=delicious]
[Found this gem at the back of my pantry! Can't believe I forgot about it! Love TJ's!!!]
What I Worked:
The steady state was done at an incline of 10 and a resistance of 35. The intervals were the following:
Incline @ 5 for 30 minutes
Alternate:
1 minute-30 resistance
30 seconds-25 resistance
30 seconds-35 resistance
Repeat for 30 minutes!
Where I Was Featured:
These past few days the bloggy has been featured on a few sites/newsletters around the web!
The Healthy Living Blogs Newsletter….thanks to Healthiful Balance
20 Questions for Wednesday:
1) What is one of your favorite ways to spend a Saturday?
A yummy breakfast. A nice long walk with Ella. A trip to the Farmers Market. A sweaty workout/run. A few of my favorite meals. And a movie and blogging to cap off the night!
2) List your top three favorite TV shows.
This is tough! I follow a ton of shows! But my top three of ALL time would have to be:
-The Office
-LOST (oh how I miss you!)
-A 3 way tie between: Parks and Rec/30 Rock/Modern Family
3) Would you rather be in pictures or take them?
I like being in pictures with my family to document memories and moments…but I've really developed a passion for taking pictures ever since I started blogging! I've really come to appreciate a good quality photograph!
 4) Why do you blog?
It's my outlet for expression! There are so many parts of me I never felt comfortable sharing with others until I entered the blogging community! Now I have found so many people who share my passions and values and have developed such great relationships because of it! I also love the interaction and feedback…the comments sections is one of my favorite aspects!
5) Share five websites that you visit regularly…
6) If you could have lunch with one person from your Twitter list who would it be?
Can I have a lunch convention? Cause there are SO many people I would love to meet! Not only would I love to meet all my blogging buddies in real life…but some of the celebrities I follow would  be pretty cool too! I would LOOOVE to meet ELLEN! Plus she's vegan so I'm sure we could agree on a really yummy lunch place!
  7) List a few of your favorite snacks.
-cereal fruit bowls with almond milk
-sweet potatoes
-carrots with pb and rice cakes
-homemade scuffins
-veggies with dip
-yogurt messes
8 ) Do you have a pet? If so, what kind?
I think you all know Ella by now!
She's my sweet, little yorkie!!!
9) Which three material possessions would you struggle to live without?
I hate to admit this stuff (it makes me seem so materialistic!!!):
-my computer
-my phone
-my TV
#firstworldproblems to the extreme….
10) What's your favorite drink?
I actually don't drink nearly as many liquids as I should! But when I do drink I reach for water, veggie juice, or almond milk!
     11) Do you enjoy cooking?
I LOVE IT! I only wish I had more time to dedicate to it! If I didn't have school I could be rolling out recipes 24/7!
12) Do you have children? 
If you count pup's as children…then yes (see question 8)! But honestly, I DO NOT want kids when I'm older! #sorryimnotsorry
13) What are your favorite hobbies?
-blogging
-being active
-baking
-acting
-writing
14) Would you consider yourself to be shy or outgoing?
I'm pretty outgoing I'd say! I love being in front of people, interacting, and having conversation! But don't get be wrong… I love my alone time too and definitely embrace my inner "shy" person!
 15) If you could change one thing about yourself, what would you change?
I would make myself be less hard on myself. I sometimes set to high of standards for myself and then cause my stress a lot of stress in trying to achieve them/live up to them.
16) Who is your favorite actor?
Don't have one actually…there are SO many good ones out there. I really like Liam Neeson though! (Schindler's List is one of my favorite meetings!!)
17) What's the coolest thing you've done this week?
Only had one day of school
18) Do you live near your family or far from them?
I live really close to all of my dad's family but my mom's family mostly lives on the West coast. I'm jealous LOL.
19) List three of your talents. 
-Organizing
-Leading People
-Public Speaking
20) What is your greatest attribute?
      My drive and determination. When I put my mind to something, I get it done.
Thank you for indulging my survey loving self! Now a little reward for you all (or at least one of you!):
THE EAT SMART SCALE WINNER IS….
Lexi @ Cura Personalis Foodie!!!!
Congrats girl! Email me your info and I will get the scale out to you ASAP!!!
Thanks to everyone who entered/tweeted/linked about the giveaway!
Have a great day everyone!!
Kaila
Subscribe on the side. Follow me on Twitter. Ask me on Formspring. Friend me on Daily Mile. Follow me on Pinterest. 
12 responses to "WIAW: 20 Questions"