I thought I'd mix things up a little bit this WIAW! I recently saw a post from RoctheRun about having to pick only ten foods to eat for the rest of your life. Here's the scenario:
"A new government takes over and decides that you are only allowed to choose 10 foods to have for the rest of your life. How do you choose? Is it fitness related? Is it comfort food? A combination?"
What do you choose?
Interesting right?!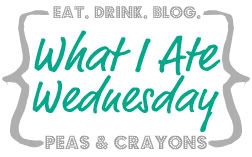 [shout out to my girl Jenn!]
So I thought I would run through the ten foods I'd pick if I really had to choose only ten! That would be pretty tragic though I must admit
.
Here are the rules:
10 Food items. So for example, Pizza would be a lot of items not just one.
You get only 10 ITEMS!
And 5 seasonings.
Ready. Set. Go
Foods:
1. Eggs
Basically a complete food! Ya got protein, healthy fats, and you can make so many other dishes with eggs since they're so versatile.
2. Salsa
Okay so technically this is a few things but let's just go with it. My favorite topping! Pretty much goes with everything and adds flavor to even the most bland things.
3. Whole Wheat Flour
Crackers, breads, pitas, and so much more can be made just by adding water and baking! Granted they would all taste pretty bland without other ingredients but at least you'd be able to make that type of stuff.
4. Kabocha
Is this really a surprise? I roast mine using egg whites so I would be able to cook this up just the way I like it!
5. Apples
Gotta include at least one fruit right? And if I had to pick I think apples would be my favorite! There are so many different varieties so I don't think I  would get bored eating them either.
6. Spinach
It can be prepared and enjoyed so many ways! If you haven't noticed….versatility is a big factor in deciding! I gotta be able to use the foods in a bunch of different ways.
7. Almond Milk
I drink like 5 glasses a day as it is…so I know I would definitely get some use out of this!
8. Sunflower Seeds
I NEED crunch in my life so these would be great for topping things with and also I could make sunflower seed butter-WIN!
9. Lentils
Another great source of protein!
10. Broccoli
One veggie I will never get sick of! Definitely my favorite.
Spices:
1. Cinnamon
2. Basil
3. Cilantro
4. Garlic Powder
5. Onion Powder
This list was actually pretty hard to come up with. Its crazy to have to consider meals for the rest of your life! So I kind of tried to think about foods that could be used in a ton of different ways yet still have the nutrients that would be necessary to sustain a healthy diet.
You should try it!! It's a fun little project!
And now for more foodie goodness:
Product Reviews!
Peanut Flour from Byrd Mill
I love peanut flour! Granted it doesn't taste exactly like peanut butter, its got a heck of a lot of protein and when mixed with other nut butters, tastes DELICIOUS! My favorite combo is peanut flour with sunflower seed butter….Mmmmm.
Anyways, Byrd Mill was kind enough to send me two jars of their peanut flour:
[12% Medium Roast and 28% Light Roast]
The different percentages are based on fat content and I would say you can definitely taste the difference between the two!
Both smell incredibly peanutty upon opening…but what they are best used for differs a bit!
The 12% had a less pronounced peanut flour, but I found it worked great mixed with other nut butters, in baked goods, and stirred into things for a protein boost (ie. yogurt, oatmeal, cottage cheese).
The 28% really surprised me! I couldn't believe how much it tasted like actually peanut butter! I mixed it with a one to one ratio of water and was shocked at how creamy it was. Perfect consistency and perfectly peanutty! I would totally eat this on its own.
Thanks Bryd Mill for introducing me to your high quality peanut flours!  
HOLY CRACKERS!
You all know my affinity for crackers. I'd like to consider myself somewhat of a cracker connoisseur. (Maybe? Oh come on guys!)
I tried these for the first time when I was in San Diego and fell in love! I knew I needed to get my hands on more!
The lovely people at Finn Crisp hooked me up big time!
[multigrain, caraway, and original]
[the NEW finn crisp plus]
Each cracker is perfectly thin, rectangular, and incredibly crisp! No matter what I topped these babies with, they held their crunch and maintained their unique flavors. Subtly sweet and nutty, the whole grains really shined through!
The Finn Crisp Plus have a few more ingredients than the regular varieties, but the added seeds and seasonings only add to their deliciousness!
Overall….HIGH quality crackers!! I love these things (as do my family!) so it will be sad to see my stash dwindle
Thanks Finn Crisp!
——–
I love when I get sent products that I actually enjoy! It makes sharing them with you all the more fun. Let me know if you try either of these two out. I would love to know what you think!
—————
Keeping slightly on tradition with WIAW:
What I Worked:
Hope everyone has a wonderful rest of the week! I don't want it to end!!!! Break always goes by so fast!
Fill me in:
What would your "ten" foods be?
Do often try the products that are featured in blog product reviews?
What's the best food you've ever been introduced to through a blog (product or recipe or combination!)?
Kaila
Subscribe on the side. Follow me on Twitter. Ask me on Formspring. Friend me on Daily Mile. Follow me on Pinterest. 
16 responses to "WIAW: 10 foods edition!"