Sorry for my absence yesterday lovelies! I needed a little break after my….excitement earlier in the week
. But I am back and better than ever! Except for the fact that I'm a little late for the WIAW party…..ooops! But here is some yummy food from yesterday (plus one meal from when I was in Boston….I know I'm a cheater LOL).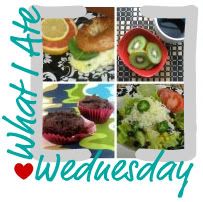 Sorry for my untimeliness Jenn!
[new twist on an old favorite: overnight oats SLIGHTY FROZEN then topped with chocolate amazing grass and softserve+the usual crunch!]
Honestly this took my overnight oats to a whole new level. I felt like I was literally eating frozen yogurt (well technically I really was..but ya know what I mean) for breakfast! So delicious.
[split pea-lentil-butternut squash soup, a big ol' dose of vitamin C, and a salad filled with hot bar fun…especially those spiced lentils and sesame noodles!]
This is the cheater meal that was actually from Tuesday after my whole "stuck underground for 4 hours" ordeal…..Whole Foods was a must afterwards.
[my new amazing grass love: ORANGE DREAMSICLE!]
This was my first time putting and orange in a green monster……and I absolutely loved it! It was so refreshing!
[Stuffed tater with sauteed veggies, humus, black beans, black bean dip, lentil soup, and tons of nutritional yeast on a bed of mixed greens!]
I always seem to have stuffed potatoes on WIAW days! I feel like I show you guys those a lot! I need to start taking pics of more of my dinners.
Didn't take a pic of my night time snack but it was a few of my Superfood Muffin tops, some carrots with humus, and nice juicy Fuji!
Don't ya just love when all your eats make you happy. That feeling when you just enjoy every meal and snack you have. I love days like that. I usually end up repeating eats when I have days like that because I just crave those satisfying foods all over again!
Speaking of cravings….. I am still on a Kabocha kick! Yup….still can't get enough. Its just so addicting. But I have been limiting myself to half of one at a time. Sadly I only have one half left. I see a trip to my local co-op in the near future.
Some other foods I've been craving lately:
-this bean dip
-eggs with jam
-toast with smashed banana (probably from having it in boston!)
-frozen greek yogurt
-peanut flour
-pancakes (I'll have to remedy that tomorrow!)
-salsa
-LENTILS! (did lots of lentil loving in Boston!)
Sadly I haven't been craving oats
Its literally been weeks since I've had HOT oats for breakfast. I miss them…but every morning I wake up wanting something cool, crisp, and refreshing for breakfast as opposed to soft and hot. Maybe this weekend I'll just try them out, just for kicks!
Haha I feel like Gina posting all these cravings and such….FYI I am NOT pregnant (Gina is expecting in case ya didn't know)!!!
Before I go….check out my lil' garden growing!
I have buds and blooms now!!! I can smell the veggies on there way. Can't wait!
**********************************
What have you been craving lately? Any weird combo's or new staples?
I want to do a Q and A post sometime next week so stop by Formspring and ask me some questions so I can get that going!
Love you all! And I loved all your support about my whole ordeal earlier in the week! You guys are just awesome.
Kaila
Subscribe on the side. Follow me on Twitter. Ask me on Formspring.
14 responses to "WIA a Day Late"