Hollie recent wrote a post about being a terrible blogger (i.e. not fitting into blogger stereotypes)…it was hilarious and gave me some inspiration for this post 🙂
Why I'm a fake runner: 
I don't have a garmin.
I use an app on my phone to track my runs and a heart rate monitor on occasion to see how much I am pushing myself.
I eat whatever (and whenever) I want before I run.
No stomach sensitivities here. I often get a little suspicious when people lament about their "ohmygodsosensitive" stomach. We need fuel people. I don't how anyone can run on an empty stomach.
I don't own compression socks.
2.99 pack of ankle socks from Target is just fine for me…although I will admit, I'd love to try a pair!
I buy new sneakers when I find a cute new pair…not because I've run x amount of miles on my old ones.
Pretty sure I have zero traction with the current pair I've been wearing. And I've never spent more than 40 bucks on sneakers. Marshall's all the way for footwear. 🙂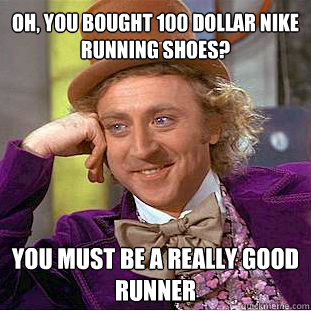 Sometimes I run on consecutive days, sometimes I don't run for a week.
I just go by how I'm feeling. No real schedule.
I don't know what striders are, I don't warm up, and I have no sense of pacing. 
Yeah…if someone wants to explain striders to me, feel free. I often hear that word tossed around in the running world but I really have no idea what you're talking about.
I don't really know if my form is correct, what pronating (or overpronating) is, or if my gait is right. 
Again, feel free to elaborate.
I didn't train for either of my half marathons. 
I didn't plan them either! They just sort of happened based on how I felt those days! Hope to run an actual sanctioned race half one day though!
I don't subscribe to Runner's World. 
Although I do splurge on occasion when the cover looks interesting!
Basically I don't fit the criteria of a typical, serious runner. But does that make me any less of a runner? I don't really know. And frankly that's okay with me. I do it because I like it and it brings me some sort of joy. And as soon as running ceases to be enjoyable, then I will stop.
I think we all try to fit into rigid definitions and standards way to often instead of just being content with where we are in our lives. Being an athlete could mean walking 3 times a week or it could mean being in the olympics. Being a mom could mean raising a family members children or having 5 kids of your own. Being a teacher can mean teaching a child to ride a bike or standing in a lecture hall in front of grad students. And being a runner can mean running ten minute miles or being an elite marathoner. But  being yourself is always exactly right no matter how you're doing it. Keep that in mind next time you don't feel like you're enough.
Before I go for the night I wanted to share the workout I came up with to share in my first article for my college's newspaper! Its meant to be for someone who wants to sneak a little movement into their day. It's convenient because a college kid could do it right in their dorm room, without equipment or a gym, and can adapt it based on their fitness needs and goals!
Let me know if you try it out!
Have a great start to the week friends!
Kaila
Subscribe on the side. Follow me on Twitter. Ask me on Formspring. Follow me on Pinterest. Like me on Facebook.
Todays's Healthy Help: Comforted a friend who is really under the weather right now.
PS: Never to early to submit your #healthyhelp for the week!
16 responses to "Why I'm a Fake Runner"