Because food is supposed to be about enjoyment right?!
Well since I didn't participate in the party last week I have an OVERLOAD of delicious eats to share with you! I have to give myself some props for branching out and getting a little more creative with my meals lately! Its amazing what you can come up with easy stuff you can have in the fridge or that you find in the dining hall.
All this stuff was so delicious…so get prepared to be inspired 🙂
WIAW…mostly wordless so that the food can do the talking: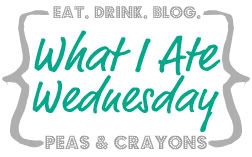 Lots of bean and grain salads! I love mixing them with humus, avocado, and balsamic! Roasted veggies and sweet potatoes dipped in soft cheese are great sides!
From top left to right…curry chicken salad, breakfast plate with a poached egg, avocado, tomato, banana bread, a pear, and toast, open faced chicken salad sandwich with veggies, and a snack plate with a homemade no bake tropical bar, toast with tempeh and guac, and an orange with cocoa! This was my first time trying raw tempeh and I am a HUGE fan! Especially when paired with avocado or guac! Delicious!
Two meals enjoyed out on the time: Asian shrimp salad on top and part of a big sashimi/sushi dinner on the bottom!
From top left to right…breakfast plate with eggs, guac, and tomatoes, yogurt and cocoa, oatmeal and strawberries, and soy milk with a chopped pear, a snack plate with a homemade bar and toast with carrots and pb, another snack plate with yogurt, oranges, and cocoa, banana bread, carrots and pb, and toast, and YET ANOTHER snack plate with a sweet potato, laughing cow, yogurt, and an apple!
Comfort food for the win! From top left to right: shepherds pie, open faced cheddar black bean burgers with fries, mexican pasta salad, and baked italian chicken with pasta.
Lots of quesadillas have been eaten too! They are just so yummy! Gotta love the George Foreman!
Happy eating everyone!
And for the record…I am OFFICIALLY addicted to The Walking Dead! Yet another show to add to my long list of weekly favorites! Any fans out there? It's live streaming on Netflix if you're interested!
What shows are you currently obsessed with?
What's your go to comfort food for these cooler temps?
Have a great week everyone! 
Kaila 
Subscribe on the side. Follow me on Twitter. Ask me on Formspring. Friend me on Daily Mile. Follow me on Pinterest. Like me on Facebook.
Today's Healthy Help: Made some homemade Christmas presents for my family and showed some on lookers how to make their own!
5 responses to "What I've Been Enjoying"