Happy Weekend! All you weekday workers and Summer students out there are probably rolling your eyes seeing as everyday is pretty much like a weekend while on Summer break…but hey, the weekend still feels special to me! Even in the Summer!
I went to see a movie last night called Moonrise Kingdom. Have you heard of it? It's a lower budget movie and isn't being show everywhere so you may not come across it at your local theatre.
It has a ton of amazing actors in it so that's what caught my attention to begin with. I went into it expecting it to be a bit "off the beaten path" in terms of plot and filming…but it was a little different than I imagined. Funny, but not as much as I thought it would be….and pretty strange as well. But it was entertaining for the hour and a half that it was…and all the actors in it did a great job! Has anyone else seen this?
Aside from the movie I have also done a little dorm room shopping and listened to about A MILLION Jillian podcasts (more on those later)….
I've only picked up a few things right now but its actually pretty fun to start thinking about how I am going to decorate and organize my room!
[comforter and sheets]
[laundry basket]
My roommates and I even have a meet up planned for a few weeks right now so we can get to know each other before orientation. I am really excited!
—–
So as I have mentioned a bunch of time over the past few weeks, I have been listening to Jillian's podcasts non stop. A good thing about having just discovered her podcasts is that since she's been doing them for so long, I have A LOT of archived shows to listen to. The more I listen the more I realize how similar my health and fitness philosophies are to hers. I find myself nodding my head all the time while the podcasts are playing. Yesterday I listened to an especially relevant podcast about all the different diets currently out in society. It got me thinking about my own opinions on all the varying (and often contradicting!) approaches to eating.
You got paleo, vegetarian, vegan, macrobiotic, gluten free, fruititarian, raw food, pescetarian, low carb, low fat….and the list goes on! With all these competing ideologies how is anyone ever supposed to know what a healthy diet really is?!
People swear by their individual food philosophies…but the thing is most of them completely go against each other. For example, raw foodists believe that eating foods in their most natural states provides the most nutrition and benefit to the body. People who follow a macrobiotic diet on the other hand, are on the COMPLETE OPPOSITE spectrum. Their food ideologies are focused on cooking foods to reap the most benefits from them.
So you see what we have here? A whole slew of people trying to achieve this unattainable "perfect diet". But in all honesty NO ONE is ever going to be able to do it! Not only because humans can't be 100% anything all of the time, but because we as a society don't even have enough scientific information yet to determine exactly how food is used by the body.
Jillian brought up the fact that there are so many elimination diets out on the market right now. Diets that cut out WHOLE food groups!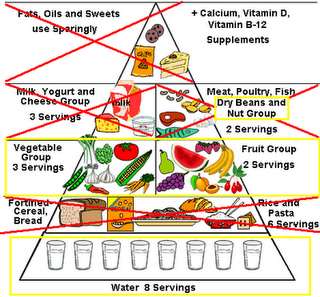 I mean seriously cutting out grains completely? Cutting out fruit completely? Cutting our dairy or fat completely? There are important nutrients to be had from all of these foods groups! When you cut out a food group completely you are sacrificing the vitamins, minerals, and nutrients that are specific to these food groups. Plus, cutting out something completely is a bit extreme…and going to extremes on any end of the spectrum (in ALL areas of life!) is a bit unhealthy.
There are arguments from every angle claiming that our bodies don't need this, that we're better off without that…but when talking about natural WHOLE foods that come right from the Earth I find these arguments a bit frustrating.
Consider wheat. Over the past few years it has gotten an increasingly worse reputation in society (just as FAT did in the 80's and 90's). People go on about the negatives of it and how it bloats them or gives them "stomach issues"…but in my opinion going to extremes and cutting out food groups is probably what's causing the physical symptoms more than a particular type of food (with the exception of those that have allergies of course!). Medical professionals even advise that people without gluten intolerances not avoid gluten!
The gluten free fad is just one example and I could go on about the others. But the overarching point Jillian was trying to make in this segment was that sticking to WHOLE FOODS and eating a well rounded diet from ALL of the food groups is going to make you a hell of a lot healthier than most people in the world. And plus, striving to achieve the perfect diet or what figure out what foods make you feel the absolute best is stressful! No one is going to feel 100% all the time! I think we've all become a little to sensitive to our bodies kinks and quirks…not everything is caused by the food we eat…especially if we are eating nutrient dense foods that come from the land.
I believe in variety. I believe in getting nutrition from all portions of the food pyramid. And most importantly I believe in real, WHOLE FOODS.
And just something to think about…our nation is more unhealthy and bigger than its ever been. I know this can't be attributed entirely to a rise in diet trends (a lot of it has to do with an increase in processed food and sugar consumption), but I think at least a part of it has come from the zeroing in on the supposed 'badness' of certain foods. Maybe simplifying our food ideologies is the way to go?
———–
I hope this didn't come across as an attack on those who choose some of these different diets…in the end we all have to choose what feels right for us. I just wanted to share my opinion on the subject and discuss the 'diet' I choose to embrace.
It's funny, I feel like food philosophies can sometimes fall under the same category as religion and politics! People can get pretty heated defending their diet choices
I welcome discussion on this topic in the comments…please keep it respectful though! We are all entitled to our opinions!
If you're interested…here is a post I wrote a long time ago about my thoughts on diet labels.
Kaila
Subscribe on the side. Follow me on Twitter. Ask me on Formspring. Friend me on Daily Mile. Follow me on Pinterest. Like me on Facebook.
26 responses to "Well Rounded Eating"