Well you all sure know how to make a person feel loved! Your comments on my last post seriously made me cry. They were so incredibly sweet and heartfelt and I really appreciated each and everyone of the kind words you wrote. Especially to you people who said you rarely comment…thank you for coming forward and making me feel so supported. It really means a lot.
Yesterday I woke up and felt about ten times worse than the first day after the accident. I had horrible chest pain and all of my hurt areas seemed a lot more sore and painful. My dad thinks that the adrenaline from the accident made the first day not seem as bad and now for the next few days I will really be feeling the affects. But I'm hoping that's not the case and that I will slowly start progressing forward.
[note on the box of cookies I brought to the fireman who first responded to the accident scene…they were SO nice]
I really am astounded at the amount of people who have reached out to me in the wake of this accident. I guess you really never can tell how much people care about you.
But enough accident talk for today…
The my lovely friend Haley tagged me with the Reader Appreciation Award. Survey's are a great way to pass the time when you can't do much else!
1. Include the award logo somewhere in your blog.
2. Answer these 10 questions, below, for fun if you want to.
3. Nominate 10 to 12 blogs you enjoy. Or you pick the number.
4. Pay the love forward: Provide your nominee's link in your post and comment on their blog to let them know they've been included and invited to participate.
5. Pay the love back with gratitude and a link to the blogger(s) who nominated you.
1. What is your favorite color?
If I had to pick I would probably choose some shade of Blue or Pink. But really I am drawn to colors from all over the color wheel…I don't discriminate
.
2. What is your favorite animal?
Horses! I used to ride and basically fell in love with them when I was younger. They have such personality. But of course I am partial to pups as well…
[especially sleepy ones
]
3. What is your favorite non-alcoholic drink?
Veggie juice! I have a glass everyday.
4. Do you prefer Facebook or Twitter?
TWITTER for sure. Facebook is boring to me for some reason. With Twitter I love that you can connect with a wider range of people and just see the important stuff (i.e. not weird pics and game requests). Believe me, if I never saw a duck face photo again, it would be to soon.
5. What is your favorite pattern?
Hmmm, hard one actually! I like random floral and shape patterns like the ones on Vera Bradley bags.
6. Do you prefer getting or giving presents?
Giving! I absolutely love Christmas, Birthdays, and any other gift giving holidays! Its so fun seeing people's faces light up when you give them something that genuinely comes from the heart. I am a big fan of giving homemade cards and have been known to start shopping for people's presents MONTHS before the actual holiday.
7. What is your favorite number?
6. It has been my number in all my sports since I was little. It's also my dad's number
.
8. What is your favorite day of the week?

I like Thursday's for some reason. Maybe it's because that's the day when all my favorite shows are on. But it also might be because everything seems optimistic…the week is almost done and the weekend is so close. It's such a happy medium.
9. What is your favorite flower?
Most people would probably expect me to say Roses because rose is my middle name. I really do like roses but my favorite flowers would have to be hibiscus! They are just so tropical looking and remind me of warm weather.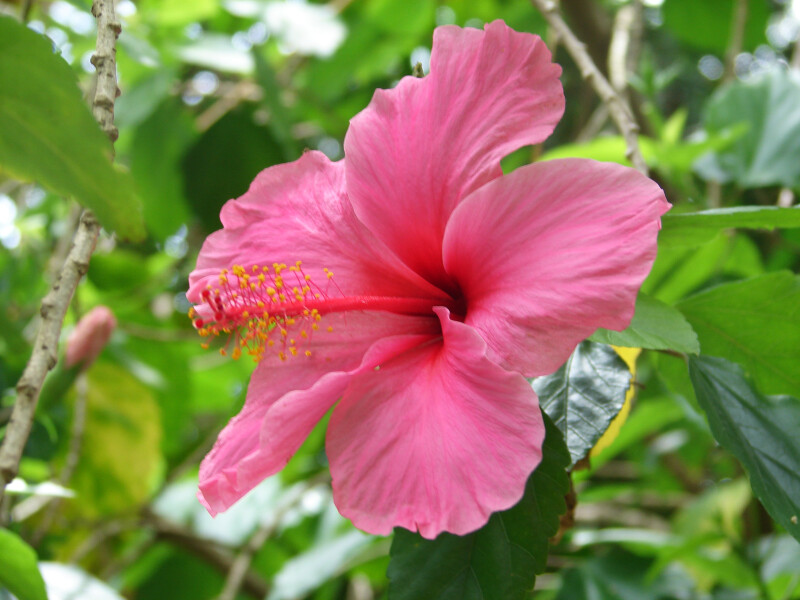 10. What's your passion?
Speaking to people, living healthfully, moving my body, being outdoors, and helping others see the goodness in themselves.
Thanks for the tag girl!
Since I think a lot of people have already been tagged for this I am just gonna try and think of as man
y people as I can that haven't been tagged yet!
1. Carrie from This Fit Chick
2. Tiff from Love Sweat Beers
3. Brittany from Go the Extra Mile
4.  Tessa from Amazing Asset
5. Hollie from Fueled By LOLZ
6. Julianna from Julianna Bananna
7. Allie from Allie's Life
8. Chelsea at One Healthy Munchkin
9. Maria at Beautiful Busy Bee
10. Kristi at Sweetly Fit
Enjoy friends!
————
Oh and make sure to head over to Carissa's blog where she interviewed me for her fun Saturday posting series!
Love you all!
Kaila
Subscribe on the side. Follow me on Twitter. Ask me on Formspring. Friend me on Daily Mile. Follow me on Pinterest. Like me on Facebook.
10 responses to "Updates and Awards!"