I loved reading everyone's "truths"….they were so funny and honest! Sometimes you just gotta get stuff off your chest right!?! And thank you to the new (and old) readers out there that have been commenting lately. You all know how much I love comments! 
So, good news everyone! I am officially done with MATH for the year! No more graphs, equations, finding derivatives, probabilities, chi-squared tests, and any of the million other things we learned this year! Today was my last math exam so I am officially done with that class. I will admit the exam was pretty challenging but I'm sure everything will turn out okay.
To celebrate I came home and went for a nice long run…..it was absolutely BEAUTIFUL out today! Just perfect.
I did:
7.61 miles (such an awkward number LOL!)
in 62 minutes
I ran at the really pretty cemetery that has a great running path right by my house. It's kind of like my cities own little central park because its just this wide open green space right in the middle of the city. I love it!
And look what I saw on my run:
Yes it's just a deer…but in the middle of the city!?! It's so funny! This deer actually has a whole story behind it. It's been sitting with a goose in the cemetery watching her eggs for the past month or so. It's been on the news and everything. You can read about it here!
*************
I mentioned the other day that I wanted to share my thoughts on Portia De Rossi's memoir, Unbearable Lightness. I recently finished reading it and the story was so powerful that it really stuck with me.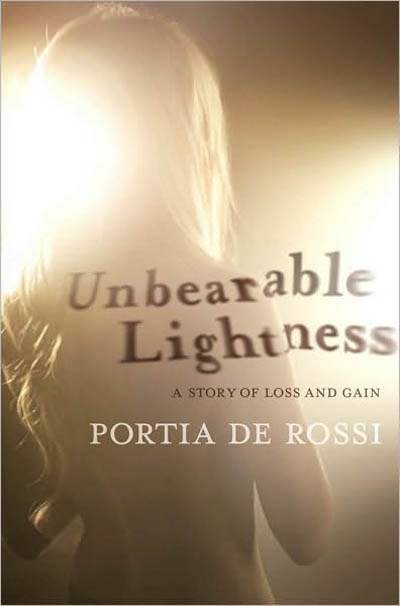 I will admit that it was bit tough to read at some points, and I also will say that this book could probably be very triggering for someone with an eating disorder (so if you are dealing with something like that, I would caution you before beginning reading it…..just a little disclaimer). She goes into great detail about her thoughts and actions during the "rock bottom" stages of her disorder and I will tell you that it is pretty extreme. Please use your judgement really carefully before picking up this book!
The first half of the book is devoted to really introducing herself and evaluating the things in her life that contributed to the downfall she experienced with her eating disorder. This is one of the things I loved about the book. Portia is so in tune with herself now, that she really was able to look back and self evaluate how and why she got to the dark places she once was in. Not only is she INCREDIBLY honest, but her writing is beautiful.
Throughout her recollection, she pairs personal stories with insightful thoughts that anyone and everyone can benefit from. Here are some of my favorite lines from the novel:
"Life can take so many twists and turns. You can't ever count yourself out. Even if you're really afraid at some point, you can't think that there's no room for you to grow and do something good with your life."
Love this! Basically, there is always a place for you in the world. Never let yourself get so hopeless that you lose your drive to live, thrive, and succeed. You are worth so much more than that.
"In other words, except yourself. Love your body the way it is and feel grateful towards it. Most importantly, in order to find real happiness, you must learn to love yourself for the totality of who you are and not just what you look like."
The most important person in your life is you. If you don't love and except yourself, you can't expect the world around you to.
If I was in some of the situations that she described in the novel, with the intense feelings and pressure surrounding her, I don't know if I could have come out to be such an amazing person like she is today. There were some chapters in the novel, where Portia described her experiences when she was at her worst state, that physically and emotionally drained me. I just felt so helpless and upset that people in the world have to experience such intense feelings of self-hate. I just wanted to reach out and hug someone in her position and tell them that it's okay. They are okay just for being who they are.
I felt so much empathy for her and almost had to remind myself that she is healthy and happy now to get through some of the pages.
Even though I did have a strong emotional response to book and felt incredibly sorry for what she had to go through, I don't think that was Portia's motive for writing the book. I am convinced that she is really a miracle and wanted to share her story to show people that anything really is possible. Without revealing too many details, coming from the deepest throes of her disorder seems to be an incomprehensible journey. At some points she was so irrational and ill, that I can hardly believe she got through. I asked myself many times in the novel if I myself think I could have gotten through something like that. I can only hope I could be that strong.
The incredible strength and will power Portia has is truly inspiring and reading her story really gave me an insight in to what those with eating disorders have to go through. Her book at the end of it all is an extremely powerful message to any woman who struggles not to define herself by her beauty, weight, or looks in general. It truly is a story of Loss and Gain, as the title suggests, and Portia makes it known that what she has physically, mentally, and emotionally gained has completely surpassed the joy she once felt from her constant cycles of loss. A truly amazing women, I'd say.
I would totally give this book a 10 out of 10!  And I HIGHLY recommend it!
*************
Good luck to everyone with exams this week! You'll do great.
And remember…..start submitting your recipe for my recipe contest! You do not want to miss out on this one!
23 responses to "Unbearable Lightness: A Story of Loss and Gain"