Talk about a tongue twister, am I right?! But the title is fitting as I have some nice little insights to share with you all today!
As I mentioned, I have become addicted to an avid listener of Jillian Michael's free podcasts on ITunes.
She so personable and makes it seem like you're having a casual, one on one conversation with her! Not to mention the awesome variety of topics she covers. She definitely doesn't just stick to health and fitness…Jillian delves into a wide range of different subject areas related to leading a good life overall.
Anyways, I listened to a few podcasts today as I was hanging around and one that really struck me was about how finding the positives in the worst of situations can (and WILL) make you happier, healthier, and more successful in every aspect of your life.
The discussion started when Jillian posed the question of how two people can grow up in horrible environments and go through tragic experiences, but one can become an incredibly positive figure in society while the other can become a monster? She used the example of Oprah, who was sexually and physically abused as a child, and Hitler, who also was mentally and physically abused as a child. One used their experiences as a means of motivation to help others and the other internalized their pain and coped by hurting others.
Jillian noted the quote: "Hurt People hurt people." And its true, those who go through terrible trauma and hardship in their lives are more likely to project those same things out into the world because of how badly they've been hurt themselves. But the difference between those type of people, and the ones that are able to become positive individuals is the ability to find the aspects of worth and meaning in the darkest of situations.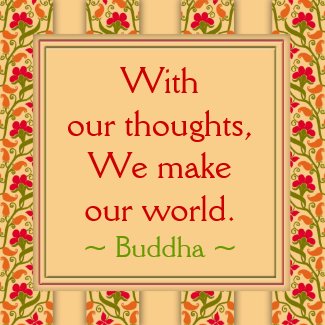 Dwelling on negatives literally gets us no where. Especially dwelling on things we can't control. For example, when some one cuts you off in traffic and you have the urge to get upset, swear, or give someone the finger, try focusing on something positive, like the person who let you into traffic earlier in the day. Getting full of rage and negativity does nothing to change the situation except cause stress to your body, release unhealthy hormones, and create a chain reaction of negativity on those around you.
Looking for positives on the other hand helps you practice reflection, mindfulness, and will make you a happier, more empathetic person overall.
Going back to the topic of what gives someone the ability to rise above the hurt in their lives and become better people in light of it, Jillian mentioned the power of the "good enough other". This is an individual that serves as a constant source of support and love in someone's life. Having just ONE of these type of people in your life…someone who believes in you, encourages you, and loves you…can make all the difference. It takes just knowing that there is at least one person out there for you to give hope and inspire you to do the right thing.
For those of us that have numerous "good enough others" in our lives…we should be incredibly thankful. And for those who only have one person like this in your life….know that they are good enough and that as long as you have their love and support you can do anything. Maybe even be someone else's good enough other?
Who are your "good enough others"?
Why do you think some people can rise above adversity, while others are consumed by it?
Think about one negative from your day and spin it! Look at it through a positive perspective and share it!
Remember: You have till tonight to enter my giveaway! Winner will be announced tomorrow!
11 responses to "Things to Think About Thursday"