Family 
Food
WIAW…Christmas Eve and Christmas Day! I didn't get pictures of everything, but I can fill you in on what we had!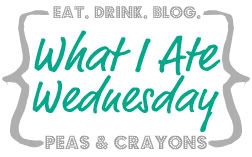 Christmas Eve was filled with the traditional 7 fishes as well as Sweet Potato Lentil chili, roast beef sandwiches, salads, casseroles, and pasta!
Christmas Day was a Proulx family take on Surf n' Turk with lobster, pork tenderloin, roasted veggies, roasted red potatoes, tomato bisque, and lots of homemade Christmas cookies!
Everything was incredible! I wish we could eat like this everyday! But that would be mighty expensive HA!
Presents 
[highlights included a new camera(!), a TV for my room, gift cards, new PJ's, body care stuff, and a Southwest gift card!!
I made some homemade gifts for my family (a reed diffuser made from an old pellegrino bottle, a hand sown notebook, and homemade nutella!) as well as some purchased ones like a grill for my dad, jewelry for my mom, and a cookbook and shirt for my sister!
I have to say…my cousin definitely got the coolest present for Christmas…
AN ANTEATER! He's a zoologist who's always on Jimmy Fallon and for Christmas got an anteater to add to his collection of rare/exotic creatures! He takes SUCH good care of them so it's awesome that the little anteater is joining the family!
Love 
And all around happiness. 
I hope however you spent the beginning of the week was filled with joy, love, and contentment. Frankly, those are the best gifts you can receive at this any time of the year. Soak it in while you can.
Be back soon with more holiday details and some answers to some reader questions I've gotten lately!!
Kaila 
Subscribe on the side. Follow me on Twitter. Ask me on Formspring. Follow me on Pinterest. Like me on Facebook.
Todays's Healthy Help: Cleaned the kitchen for my mom and helped prepare the meal!
9 responses to "The Merriest of Christmas's"