I am officially dubbing this week: Q and A week! (Alternatively, the week I SPILL it all!) Well probably not everything (although there are a few secrets I've been wanting get off my chest!)…just what I've been asked by all of you…as well as a few surveys I've been dying to fill out! I've been promising a slew of Q and A style posts for forever now, and I am finally getting my act together and getting them written up for ya!
For Part One of this week's series, I decided to take part in Arman's Spill It link up for the first time! I know I'm a little late, but this week's survey was TV themed! And being the TV aficionado that I am, I knew I had to get involved!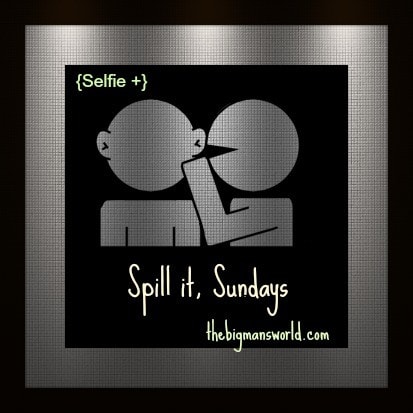 Selfie to start things off! 
[cheesin' with my best girl!]
-> What was your favorite TV series growing up?
Childhood- PB&J Otter, Blues Clues, Doug, Rollie Pollie Ollie, Out of the Box, The Big Comfy Couch, ZOOM!
Later childhood- Spongebob, Hey Arnold, Rocket Power, Boy Meets World, Full House, Fear Factor, American Idol, anything Disney Channel!
Teen years- The Office, Gilmore Girls, 30 Rock, Heroes, LOST!
Now (I'm taking this as, 'what I'm watching now', not necessarily 'my favorite series of all time')– Nashville, American Horror Story, Parks n' Rec, The Mindy Project, The Walking Dead, Homeland, Pretty Little Liars, and The Fosters! <–clearly I watch a lot of TV!
-> What is your current favorite TV series? 
It's nearly impossible to choose just one! But since it just came back on for its second season, I will say THE FOLLOWING! So suspenseful!
-> If you could guest star in ANY TV show, which would it be?
Aww man, I wish this question could be asked in the past, because I would most certainly say THE OFFICE! My favorite cast of all time! I would have loved to work with them all! But since it's now off the air, I will have to say The Mindy Project! Love Mindy Kaling and she always has the best guest stars on!  
-> What genre of  television do you enjoy the most? (Reality, Action, Drama, Comedy)
Comedy and Drama for sure! I love a good laugh and anything that keeps me guessing/on the edge of my seat is a winner in my book (<—or should I say, TV!).
-> Which TV series do you think should NOT have been renewed after it's first season yet had?
-> Which TV series do you think deserved to be renewed yet was not?
I will forever say The Office…even though I know it technically wasn't cancelled. So for the sake of sticking to the true intent of the question I'll go with a few that I thought were really good: 666 Park Avenue, The Event, and Persons Unknown!
What is your favorite TV show theme song? 
It's not really a great song, but it ALWAYS gets stuck in my head! It's from Felicity, which was a late 90's/early 2000's sit-com starring Keri Russell! It's all on Netflix and that's how I was able to BINGE watch it last summer! 😉
Pick one of the above questions and answer it in the comments! 
Okay, and just so you know, over the course of writing this post, I've decided to end 'Q and A week' with a big reveal of something I've been keeping from you all for a while now! It's HUGE news for me and I am really excited I can finally, comfortably share it with you all! So stay tuned for all the Q and A posts this week so you can learn a bit more about me and for the BIG REVEAL of some exciting news on Friday! 
Kaila
19 responses to "Spillin' it: Part One"