DISCLAIMER: This post was written all in good fun! Please do not read to much into or take it to seriously…I am in no means trying to offend anyone. 
Alternatively, "I'm Sorry, But…"
Feeling a little snarky today everyone. A lack of sleep this weekend coupled with yesterday's day full of mishaps and oddities combined for one of those days where every little things just bother's ya. Sometimes ya just need to vent.
Please excuse my random rants and raves.
I'm sorry, but…
Having your 20 year old car break down outside your sketchy low priced grocery store is not ideal.
I'm sorry, but…
[saw countless "runners" yesterday decked out as if they were running a marathon!]
Is a fuel belt really necessary for a ten minute run?
I'm sorry, but…
It is NOT okay that this is the lowest price gas has been this week.
I'm sorry, but…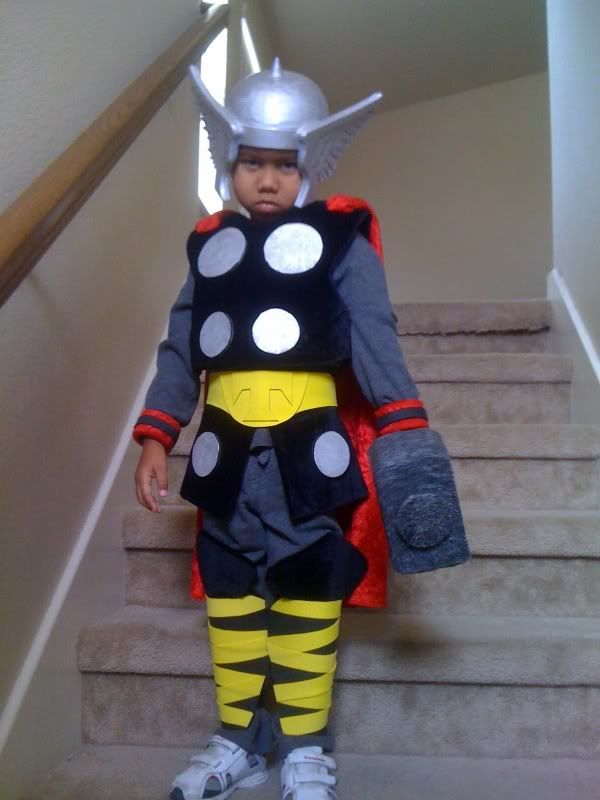 [I was just as enthused as this kid
]
Did I miss National Thor day or something? Because I saw THREE people dressed up like him yesterday!
I'm sorry, but…
Just because there is new people in the yoga class, instructor, doesn't mean the rest of us don't want to be challenged! I can't stand when the whole intensity of the class is lowered and is taught more as a basics class instead of the new people being given modifications.
I'm sorry, but…
I get really excited when I find whole nuts in my larabars…almonds FTW!
I'm sorry, but…
[sign reads: this church is a nuclear weapons free zone]
Is this sign really necessary? I'm pretty sure we'd like to keep the whole country a nuclear weapon free zone.
I'm sorry, but…
When you see one of Hollie's hot Potsdam fireman friends, you creep and take a picture.
I'm sorry, but…
I am INCAPABLE of making popcorn without burning it. (still ate it anyway though
)
I'm sorry, but…
I not sorry for letting myself be a little snarky sometimes! It feels good. You should try it!
Tell me one of your own "I'm sorry, but's"! Now's your chance! Vent! Get out your frustrations from the past few days!
Have a snarky Sunday, friends!
Kaila
Subscribe on the side. Follow me on Twitter. Ask me on Formspring. Friend me on Daily Mile. Follow me on Pinterest. Like me on Facebook.
27 responses to "Snarky Sunday"