Happy St. Patrick's Day to those who acknowledge it! I'm Irish so I feel a slight connection to the day! Although it's mostly become about drinking and partying…two things I'm not a huge participant in! But it's still a fun, festive time!
Today I have a little weekend recap, a fun new workout to share, and a survey I couldn't resist taking part in! In other words, Monday's post is a bit of a mashup!
I can't go any further though, without wishing my sister a WONDERFULLY HAPPY BIRTHDAY!!! She turns 29 today and I am so happy I was able to celebrate with her in person this year!
[Love you!!]
In fact, that's where I'll start my weekend recap! Despite St. Patrick's Day being the actual day of my sis's birthday, we decided to celebrate early on Friday since this weekend was pretty jammed packed with other festivities!
My made a homemade dinner for us all and we all gave my sister her gifts and cards!
[bought her a copy of the Oh She Glows cookbook as she is a fan of Angela as well! Plus dark chocolate covered goji berries, chocolate covered strawberry tea, and coconut dark chocolate!]
Oh and I made her favorite cake of course! Red velvet with cream cheese frosting!
Not as pretty as some of my other cakes…but still tasty! 🙂
I also got a long run in on the treadmill on Friday and used part of it to test out a new interval-type workout for you all! It definitely kept me from getting bored while I was running and was a nice little break from the intense speed work I did for the first half of my run! Check it out…
Let me know if you try it out!
Saturday was the warmest day we've had in a while (even though it was pretty grey and dreary out!) so I decided to run back to back days! It ended up being a really nice, slow run since my legs were a bit sore from the day before. I saw so many friendly runners and lots of birds and animals out! So it was nice to just be able to enjoy my surroundings and zone out. Plus a new episode of my favorite podcast didn't hurt. 😉
Saturday was all about grocery shopping as usual and trying to let me first day of Spring Break really sink in! Believe it or not, I felt a little guilty for not doing any school work! I have SO MUCH to do over break so I feel like I should be working on it a little at a time…but I needed at least one day away from it all!
Saw some unusual things at the grocery store this week…
[1000 dollar mushrooms?! No wonder truffle oil is so expensive!!!] 
[Chicken fried rice at the checkout?? Well that's new!]
Oh and I made a special trip to Trader Joes to stock up on some essentials I get from there every few weeks!
Saturday night made the day a real winner because I went to go see one of my FAVORITE comedians who was in town for a special event at the local comedy club! Have you ever heard of Michael Ian Black?! Well he's freaking hilarious and was such a delight to watch perform!
He also has a few podcasts that I listen to, so it was so cool to see someone who you sort of feel like you know perform live!
Now how about that survey!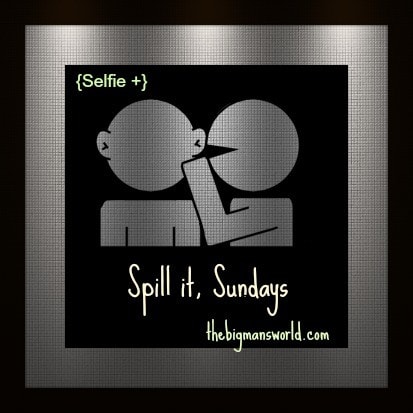 I know I'm a little late to Arman's whole Spill It Sunday link up….but will just make this Spill It Monday! I thought the theme of this week's link up was fun so I wanted to take part! It's all about protein and how you incorporate this important macronutrient into your diet.
1. What is your favorite protein source?
So hard to pick just one as I've really become a protein lover over the past year a half or so! But I'd have to go with seafood….any kind! Especially since I've never tried a variety that I don't like!! Pretty crazy, huh? It's just all so tasty and I'm pretty sure I'd eat a lot more of it (like for every meal!) if it weren't so expensive!
[Lobster sashimi? I could get used to that!]
2. What is your favorite meat (if you eat it)?
Well I don't eat red meat, lamb, or pork….but I do love me some turkey and chicken! I especially love turkey in burger form and the no-salt added deli turkey I get from Wegmans! It tastes like real Thanksgiving turkey as opposed to the slimy, overly salty stuff that is usually available in the deli! So yum.
3. Which protein receives unfair flack? Which protein is most overrated?
I think protein powder simultaneously receives the most flack AND is the most overrated! It seems like most people fall into one of two boats…either they are totally anti-protein powder, think that it's unnatural, and feel that protein should come from whole foods OR all they do is eat protein powder and are constantly trying the latest flavor, variety, and brand! I think either side is a little extreme and I think there's room for a protein powder in moderation in an overall healthy diet. For me, I don't use protein powder as substitute for protein but rather just as an add on! I personally love the taste and texture of unflavored whey so I use it in my power bowls! I also really enjoy baking with protein powder and love the consistency it gives baked goods! So as with most other aspects of my diet…I use it in moderation and as a part of a well-balanced, no-off limits food philosophy!
[hehe.]
4. Link up a favorite protein rich recipe (it can be your own or another bloggers!)
Here's a few of my favorite protein baked good recipes….
Light n' Lemony Protein Muffins 
Coconut Gingerbread Protein Muffins 
5. What is YOUR perception of this macronutrient?
I love it! I wasn't always on the protein train, but over the past year and half or so (as I mentioned) I realized how important it is for muscle recovery and overall health! So I began making it a point to make sure I am getting enough! Now I probably get more than would be recommended in a day for someone my size…but that's okay! I love the foods that I get my protein from and won't be cutting back anytime soon!
6. What benefits does PROTEIN play in YOUR personal eating habits?
First of all, it's DELICIOUS! Beans, lentils, greek yogurt, chicken, turkey, eggs, cottage cheese, nut butters, protein powder, seafood, TVP, tofu, cheese! The list goes on and on for all the foods that contain good amounts of protein and that I LOVE. So above all it provides enjoyment! But it also is great for replenishing my muscles after a hard workout or run! It's one of the key building blocks of life and provides the body with so many essential nutrients. We truly couldn't survive without it, so I'd say it's pretty darn important for EVERYONE!
Well, that's all for me, friends! I am off to Canada tomorrow to take a special class and receive a body treatment session at the Power Institute in Toronto! I can't wait to share my experience with you all!
How was your weekend?
Is St. Patrick's Day celebrated where you live?
What's your favorite source of protein?
3 responses to "Monday Mashup"