"When you get to the end of all the light you know and it's time to step into the darkness of the unknown, faith is knowing that one of two things shall happen: either you will be given something solid to stand on, or you will be taught how to fly."
Today was amazing. I started the morning off with my second Power Yoga class and it was even better than the first one I attended a couple of weeks ago. I opted for the earlier class this time and it really felt amazing to start my morning so early and with such a powerful practice.
My drive to the studio was done in a thick fog. Little did I know this fog would have a lot deeper meaning after my class.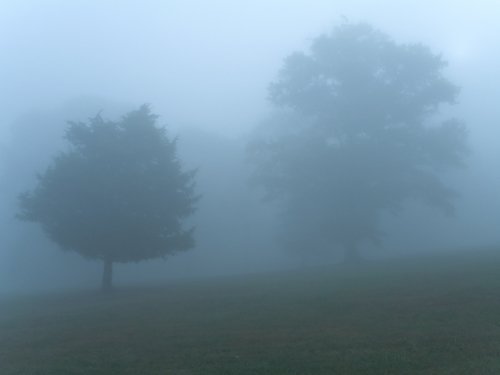 The same instructor as last time led the class and again I was awed by not only what a great, attentive instructor she is but by how thoughtful and wise her words are!
It seems like each class develops its own sort of theme each time. This weeks was about having faith and being present.
Just like the fog that lay thick on the ground this morning, sometimes our minds get clouded and filled with racing thoughts, what ifs, and apprehensions. We get so caught up thinking about what could happen or what will happen next, that we completely forget about the moment we are in right now.
This relates to so many aspects of our lives. The instructor related it to us in regards to yoga:
For example, when you're in chair pose…your legs are burning, your shoulders are on fire from reaching your arms straight and strong, and all you can think about is how much longer you'll have to hoooooold it. But instead of thinking about whats to come, the instructor suggested focusing on one breath at a time. Working through each breath as if it's the only thing you are sure of in the world….the only thing you can count on happening next.
We have to have faith that we will be able to handle what comes our way. Its impossible to anticipate every occurrence in our lives of course…but even so, many of us spend so much time worrying about what will come next that we stress ourselves out even more. If we were able to just take things in stride, the harder moments of life would be much easier to get through.
If we can do this…if we can be more present, the 'fog' that hinders us can clear from our minds and allow us to see things more clearly and live life more fully.
The quote I posted at the beginning of this post was painted on the wall at the studio. It really resonated with me and I think it's a perfect reflection of the meaning of todays class.
Instead of worrying about what will come, have faith that you will deal with it in someway. Nothing is simply black or white. There is always a way if you're willing to look for it.
And as if Mother Nature was sitting in on my class as well, when I emerged from the studio, the fog had cleared and the sun was shining. I felt pretty clear headed and fresh as well.
———-
I will definitely be looking into buying a larger class package…I am totally addicted! Physically and mentally! The physical challenge is just as beneficial to me as the mental centering I get each time I go. I mastered this pose today:
Usually I do headstands with my hands down, but this week I was able to stay balanced on my elbows! Definitely more difficult…but I felt so accomplished after holding it! Maybe someday I'll look something like this…
Yeaaah…not unless my head flattens out sometime soon
Before I go, I wanted to wish everyone a Happy St. Patrick's Day! I am a quarter Irish so I guess I should be celebrating a bit!
But more importantly than it being St. Patrick's Day….its my sister's BIRTHDAY!!!
Happy Birthday Melissa!!! I love you so much and I hope you have a wonderful time celebrating!
Have a fun (and safe!) weekend everyone!!!
Kaila
Subscribe on the side. Follow me on Twitter. Ask me on Formspring. Friend me on Daily Mile. Follow me on Pinterest. Like me on Facebook.
13 responses to "From Fog to Faith"