I am back for the second post in my "Focus On" series! If you are new to the series and want a little bit more info you can check out my first post here.
This week's focus is on Macrobiotics! A lot different from what we discussed last week with Raw Foodism. Nothing like covering all ends of the spectrum
Note: I am not a medical expert or nutritionist. The point of these posts are not to advocate for or discourage the food trends that they will cover. They are purely to provide some basic facts that are concrete and create a clearer picture of what these diets all are about since there is usually a lot of confusion surrounding them. They are here to serve as a reference if you didn't quite understand these eating styles beforehand.
Right, on to it then…
–Macrobiotics–
[hehe…this seemed appropriate!
]
What is it?
Defined solely as a word and not in regards to a diet, macrobiotics is the theory of promoting health and longevity by means of diet (especially whole beans and grains). But as a 'diet' to follow, macrobiotics involves eating grains as a staple food along with other foods such as local vegetables, avoiding the use of highly processed or refined foods and most animal products. Following a macrobiotic diet also takes into consideration the manner of eating by recommending against overeating and requiring that food be chewed thoroughly before swallowing. It is appealing to health-minded people who are interested practicing a holistic approach to physical and spiritual well-being. Macrobiotic philosophy defines a healthy person using three natural life processes as criteria: urination, bowel movements and breathing.
It focuses on balancing yin and yang foods. Foods with yang qualities are considered compact, dense, heavy, and hot, whereas those with yin qualities are considered expansive, light, and cold. Brown rice and other whole grains such as barley, millet, oats, quinoa, spelt, rye, and teff are considered by macrobiotics to be the foods in which yin and yang are closest to being in balance.
Aside from focusing on balancing certain aspects of food, there are also stringent standards on how food should be cooked at various times during the year. Composition of meals is also dependent on personal characteristics such as age, sex, activity, and health condition. This aspect makes it difficult to nail down basics on how the diet should be carried out because according to its principles everyone is extremely individual in their quest to 'balance' their foods properties. (Complex, eh?)
Where did it originate?
The first person to coin the term 'macrobiotics' was a German doctor named Christoph Wilhelm Hufeland. In his book, The Art of Prolonging Human Life (published in 1797), Hufeland discusses his thoughts on life forces being present within everything (dead or living) and that moral and physical health are dependent on abundant consumption of said forces. In terms of health as a broad concept, Hufeland is considered the founder of Macrobiotics. However, the modern dietary practice of macrobiotics is said to have been developed by a Japanese military doctor, named Sagen Isizuka, in the late 19th century. He used a diet concerned with the balance of specific minerals and nutrients and acidity/alkalinity levels to treat patients recovering from serious health conditions.
Where is it popular?
Though there are variations of this diet around the world and from culture to culture, Japanese macrobiotics is by far the most popular version of it. Following Ishizuka's writing about macrobiotics, the dietary trend widely spread throughout Japan and was appealing to many Asian cultures do to it's strictness and dedication to spirituality through food.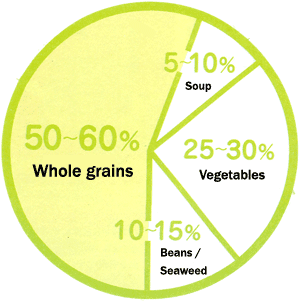 When did it gain popularity in the US?
The Macrobiotic movement has become increasingly popular in the last decade. More people are claiming to be followers of this diet and many start as a means to cure an ailment they are experiencing. The Kushi Institute located in Becket, MA is not only at the forefront of the macrobiotic movement in the US, but has been a leader in the promotion of the macrobiotic lifestyle worldwide for more than 40 years.
[from the Kushi Institute]
Apparent health/lifestyle benefits:
-long advocated as a preventative and/or cure for cancer (however, there have been no randomized clinical studies published in the available medical literature to show the macrobiotic diet can be used to prevent or cure cancer)
-diets high in whole grains and vegetables, and low in saturated fat, red meat, and processed products may prevent some forms of cancer and other chronic diseases
-can help maintain a healthy, worldly, dynamically balanced state of being
-may improve longevity
Apparent health/lifestyle disadvantages:
–Inconvenience: Macrobiotic practitioners only use gas stoves, and, if convenient, it is preferred to use a wood burning fire to heat food. Fire gives energy, vitalizing the human organism physically, mentally and spiritually. Fire is also the foundation of human culture and civilization. The quality of water is an important part of cooking the macrobiotic way, too. Clean, clear, natural spring or well water is an important resource for macrobiotic cooking.
The tools and utensils one uses to cook is also a significant aspect to the macrobiotic way. Three essential items every macrobiotic kitchen must have is a gas stove, a pressure cooker and a high quality vegetable knife. Other items include wooden utensils, chopsticks, a grater, cast iron pots and a teapot.
Also, balancing all your meals according to their properties can be hard considering you would pretty much have to memorize the 'life force' characteristics of all the foods you eat.
–Difficult to get certain nutrients: These include calcium, protein, iron, zinc, vitamin D, vitamin B12, riboflavin, vitamin A, omega-3 fatty acids.
–Nutritional Deficiencies: One of the earlier versions of the macrobiotic diet that involved eating only brown rice and water has been linked to severe nutritional deficiencies and even death. Strict macrobiotic diets that include no animal products may result in nutritional deficiencies unless they are carefully planned. The danger may be worse for people with cancer, who may have to contend with unwanted weight loss and often have increased nutritional and caloric requirements. Children and pregnant women especially should steer clear of a macrobiotic diet to avoid major nutritional deficiencies.
–Potential for Unhealthy Obsession: As with other restrictive diets (and especially with this one), followers are more at risk of becoming unhealthily obsessed with following the diets strict standards. Also, because of its close connection with spiritualty there is a high risk of taking the diet to far in order to achieve a certain level of purity. The diet goes beyond controlling food habits and even impedes on everyday living as well. For example, keeping a clean kitchen is encouraged.
–Eating out: Eating out and being in social settings involving food can be difficult and isolating because cooking practices and food handling are key parts of this diet.
-most positive claims about the diet are unsubstantiated as of late
-lack of energy could result from inadequate protein consumption
[brown rice: the staple of a macrobiotic diet]
My take:
I feel very similarly to macrobiotics as I do to raw foodism. In short, restriction is not for me! Of course it's true that anyone eating the "typical" American diet could benefit from eating in a more macrobiotic fashion, but following this diet religiously (no pun intended…because it does become a religion type presence for some of its followers!) seems like it leads to more harm than good.
Just as I said with raw foodism, there are definitely some aspects of macrobiotics that are worth incorporating into your diet (we could all use more plant based foods and whole grains!), but again, restricting other foods to accomplish a certain dietary ideal is just…well, its not for me to put it simply.
(Sources: http://en.wikipedia.org/wiki/Macrobiotics, http://www.pccnaturalmarkets.com/health/diet/macrobiotic-diet/why-this-diet, http://www.vanderbilt.edu/AnS/psychology/health_psychology/macrobiotics.htm, http://www.whfoods.com/genpage.php?tname=diet&dbid=9)
Hope this was helpful in giving you a better idea about a diet that has become pretty popular yet widely misunderstood in today's society!
What are your thoughts on Macrobiotics?
Do you know anyone that follows this type of diet?
Next up: PALEO! I am sure this one will drum up a lot of discussion since it seems to be sweeping the blog world!
Kaila
Subscribe on the side. Follow me on Twitter. Ask me on Formspring. Friend me on Daily Mile. Follow me on Pinterest. Like me on Facebook.
PS: One more day to enter for your own case of 6 16oz containers of Chobani!!! You will be in yogurt heaven if you win!
9 responses to "Focus On: Macrobiotics"