LAME-OOO. That pretty much describes me in regards to taking food pics lately. For one thing, eats have been pretty blaaah (school work will do that to ya!) and secondly, I've just been lazy with dragging out the BIG camera. Mine has been in the shop for about 4 months now…I am supposedly going to be getting it back (FINALLY!!!) later this week. Fingers crossed! I miss my small lil' guy!
But anyways, I still can't resist participating in WIAW…even if I am lacking the "A" part of the picture. I think its just a fun way to share little tid-bits about what you've  been up to and what's been going on in your life!
So let's get down to the good stuff! If you're looking for lots of food pics…come back soon! I promise I will be a better blogger this week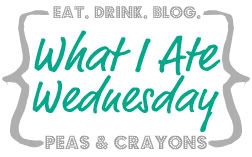 [Is it still okay that I use the badge? Yeah I think Jenn would allow it!]
What I Wrapped:
Finally started getting into the holiday spirit! Three gifts partially wrapped!! I go crazy with ribbons and bows…so never fear…these are definitely not finished products yet!
Oh and of course this was also wrapped…
[meet my new best friend….ACE.]
What I Received:
[I have a love affair with Amazon…their free shipping on orders over 25 ALWAYS gets me….I always end up buying something extra just to get the deal!]
More Christmas goodies! Can't wait to give these presents out when the big day come! So you'll have to wait a bit to find out what's in there…wouldn't want to ruin the surprise!
Oh and I forgot…I never shared with you all what my lovely sister got me for my birthday! A little late…but worth sharing:
A sweet card (
), flower shaped measuring cups (seriously the cutest things ever!), pretty measuring spoons, a reusable cup, a little note pad (I love making to do lists!), a giftcard to Athleta (she knows me to well!), and a pretty reusable bag that folds into a flower (the white thing above).
Thanks again Lis!!
What I Worked:
Still reppin' the injury workouts
What I Freaked the FREAK Out About:
We just found out the other day that one of our IB teachers will be out for the rest of the year. No explanation or anything. It wasn't a great loss because he was seriously the worst teacher ever, but it definitely threw us all for a loop because we are in the middle of the busiest time of the year when all of our big IB assignments are due.
Well today a sub came in and told us all that the project that is due next week, that we've all been working for months, is going to have to be redone because our teacher (the one that is out) gave us the wrong information on it!! Well I just about broke down!
I spent so much time on that paper and just the thought of not being able to use it AND having to write a whole other one made me so upset!
I emailed my advisor immediately and received the BEST news I could have ever heard. The sub made a mistake and the paper is fine as is! CRISIS averted! But still I was pretty upset to be put through that scare in the first place.
This all might not seem like that big of a deal….but if you know anything about the IB program, you'll know what I'm talking about! SCARY STUFF when you're diploma is on the line!
What I Pinned:
To bring my stress level back down a bit (I think my heart was racing for the rest of the day after that little fiasco!), I pinned! For the win PIN!
I am such a fan of the Humor page. Always good for a smile and a chuckle.
SO much hilarity out there!!!
And I just realized I have an extra little treat for you all…..A FOOD PIC!! GASP… on WIAW? Who'd of thought?
[Look! I even put it on a paper towel! #classy]
Haha! Yeaaah Its just a sweet tater….but come on, its in the shape of a heart! Who doesn't love hearts? And it's a Japanese Sweet Potato (AKA the best, most delicious kind ever!!)
And that ends the LAMEST WIAW ever! Sorry folks!
I look forward to reading everyone else's posts! Best day of the week for blog reading
Are you a pinner? What's you're fave section to pin from?
What was your senior year of high school like? Leisurely and chill or FULL schedule and hectic?
Kaila
Subscribe on the side. Follow me on Twitter. Ask me on Formspring. Friend me on Daily Mile.
PS: Did anyone else watch the Biggest Loser contestants run a marathon? It was SO inspiring! I don't even regularly watch the show, but this episode totally drew me in! Anything is possible…SERIOUSLY.
16 responses to "Everything But WIAW"